AAA Millennium Festival
---
AAA
Board Members pictured with US Army Band accordionist Manny Bobenreith
Faithe Deffner (AAA President) - Manny Bobenreith
Carmelo Pino (2nd Vice President) - Frank Busso (1st Vice President)
Linda Soley Reed (Secretary/Treasurer)
---
Accordions Worldwide
---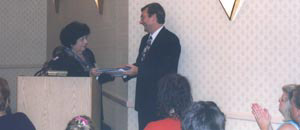 Director and founder of Accordions Worldwide Harley Jones was presented with a plaque at the American Accordionists' Association 2000 annual festival and competitions. He also received a standing ovation from the audience for Accordions Worldwide. Pictured above is AAA President Faithe Deffner presenting the Plaque to Harley, which was inscribed as follows:
The American Accordionists' Association Honors
Harley A. Jones
founder of
Accordions Worldwide
for his vision and creativity in launching a significant and prestigious cyberspace voice for the international accordion community accordions.com Millennium Accordion Festival
July 16, 2000 Washington DC

---
Faithe Deffner, President
Frank Busso, First Vice President
Dr. Carmelo Pino, Second Vice President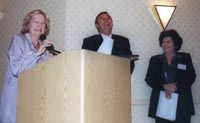 As part of the presentations, many congratulatory letters were read, including those from Harley's mother Marie, pictured left, and the New Zealand Accordion Association, read by Harley's sister Heather, pictured right. Harley was honored to accept the plaque on behalf of Accordions Worldwide.
Capitol Hill Performance
---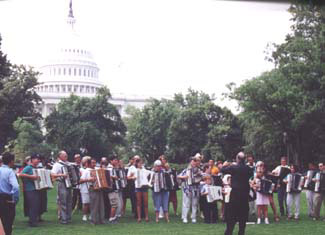 The American Accordionists Association celebrated its annual festival in the Nation's Capital, Washington DC from July 12th to 16th. Media coverage appeared across the nation, reporting the many concerts, workshops and other accordion activities at the Press and Squeeze opening evening.

There were about 10 TV channels who covered the massed band performance on Capitol Hill, where the Festival Orchestra, under the direction of Gary Daverne, performed Stars and Stripes Forever.

The media enjoyed this unusual chance to meet and film accordionists such as well known entertainer from Kansas City, Jane Christison.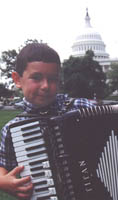 Performing on Capitol Hill, also gave some great picture opportunities, such as that for this young accordionist John Moceo, from Staten Island.
Concerts/Workshops
---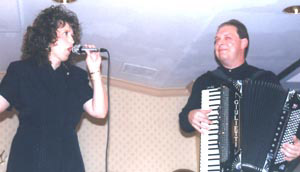 A Welcome Celebration was held to open the 2000 festival, followed by an exciting variety of events such as daily exhibits featuring instruments, accessories and music, a Cabaret Night featuring Angelo DiPippo, a Millennium Festival Banquet, the AAA Massed Accordion Band conducted by Gary Daverne, the US Army Band, featuring accordionist Manny Bobenreith, a Farewell Breakfast and guest performances by Carmelo Pino, Tony Dannon, Joe Cerrito, The 'K' Trio, Anthony Rolando (above right) and The Staten Island Accordion Ensemble directed by Frank Busso, pictured below.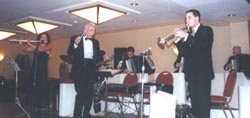 Workshops were given by:
Jane Christison, Music with a Smile
Gary Daverne, Performing in/or working with an Orchestra
Lynda Griffith, Making Light of the Accordion
Helmi Harrington, Accordions, Accordions, Accordions (pictured below)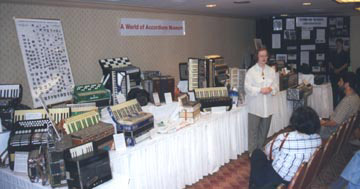 Harley Jones, The Accordion in Cyberspace
Rita Davidson, remembering Eugene Ettore and his Compositions
Sy Kushner, You Can Play Klezmer Music
US Army Band
---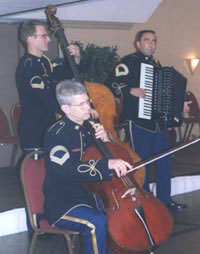 The AAA was privileged to be entertained by the US Army Band, featuring accordionist Manny Bobenreith. Normally performing for State Functions only, the AAA was fortunate to feature the US Army Band, who delighted the audience with their choreographed and memorized performance.