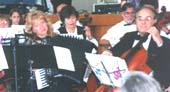 I would like to share with you readers my experiences as a public school music teacher. I decided in high school that I wanted to teach music. Accordion was not accepted as a major instrument. I then pursued the serious study of piano which I used as my major instrument.
Upon graduation from the University of Connecticut with a BS in Music Education, I was employed by the West Orange, New Jersey public schools. I soon discovered the great advantage I had because of the accordion.First of all, visually, it is very interesting to elementary school age children. As their song leader, I never had trouble gaining their attention or having them focus on me as their conductor. They are always wondering how I can play that instrument!
There have been many times that I did not have a music room. I just traveled to their classes with a bag of music over my shoulder. On very warm days at the end of the school year, I can take my classes outdoors and sit under a shady tree to sing and play music games. When we have assemblies, I can stroll through the gym and make sure everyone is singing!!. Try teaching"crescendo" with an accordion. Instant understanding as they can watch and really hear the crescendo and diminuendo in music. When our school had their playground dedication with all the town dignitaries there, the chorus and entire audience were able to sing the patriotic songs because I was able to bring the accordion outdoors. I will share a little musical attention getting technique with you all:
When leading a sing a long, instead of me announcing the songs which everyone will sing, I invite a child to come up to me and press a button in order to "select" the song. They are always delighted that they had the "choice" because I tell them that each button has a special song attached to it. They always believe it.Want to lead a parade in the music room?. Just play your accordion and have the children follow you. A guaranteed attention getter. Playing the accordion in school means never having to worry where your class or assembly will be or if the piano is working or is in tune. Just bring your accordion with you! Our international festival is held every year in our cafeteria. I lead the children in song and then entertain while everyone enjoys an international luncheon.
These are just a few of the ways I use the accordion every day in my music classes, from preK, chorus and up. If I were to write a curriculum for elementary, or any grade level, I would require the music teacher to be proficient on the accordion. If you want to verify this information you are welcome to contact my principal!
In conclusion, I would say that the accordion has been a wonderful, interesting and valuable way to share music with all.
If you want more information you are welcome to contact me:
Rita Davidson at:
Ritabelll@aol.com
---