---


The hot late-afternoon sun glances off Tom Torriglia's accordion as he strolls around the patio at San Rafael's Le Chalet Basque, weaving in and out of the balloons and dinner tables. While he conjures a dolce version of "Arrivederci Roma," a greeter bends down to pull another lei from a cardboard box for a new arrival.
Torriglia is doing what he always does -- playing for hire. This gig marks his third consecutive year playing a birthday celebration for retired bon vivant Charlie Durell, who throws his own party for several generations of friends each July.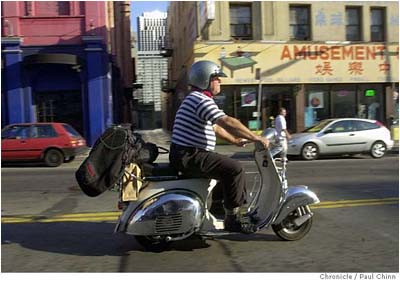 Somehow Torriglia is managing not to sweat, despite the 15-pound 80-bass Weltmeister hanging around his neck. (That's his lighter accordion, for strolling gigs. When he's playing on a stage, he'll use the 96-bass Victoria, which weighs about 25 pounds.) For the 50-year-old bachelor, playing the accordion -- his lifelong passion -- is a breeze.

Pictured above: Tom Torriglia zips down Broadway to his next gig, aboard his vintage Vespa - Chronicle photo by Paul Chinn.
Durell, a chain-smoking longtime waiter, says the musician's sunny disposition on the phone was the reason he first hired him. "I just looked in the phone book, and I could only afford one guy," he says."He was so cheerful on the phone, I figured, what the hell."
The accordion is Tom Torriglia's instrument, but what he's really selling is his affability. When a younger member of the birthday party hollers a teasing request across the small crowd -- "Play 'Stairway to Heaven!' " -- Torriglia just smiles and asks what key it is in.
Other amateur comedians make similar requests for "Freebird" and "Smoke on the Water," he explains a few minutes later, sotto voce. So he did what any good musician-for-hire would do: "I learned them."
Those songs are a small part of an ever-expanding repertoire that includes hundreds of songs -- Italian, French, Irish, polkas, tangos, standards, novelties. The events the musician plays are nearly as varied; Torriglia's datebook routinely takes him from kiddie birthday parties to wedding receptions and old folks' homes, from tipsy corporate receptions to boisterous polka nights at restaurants specializing in wienerschnitzel.
He plays in several bands, including a strolling mostly accordion sextet called the Squeegees and an Italian-flavored nightclub act called Bella Ciao. He volunteers most Sundays during the Stern Grove concert season for Music in Schools Today, wheezing nursery rhymes like "Old McDonald" for curious kids during intermission. In his spare time, he rows a gondola on Lake Merritt.
He can play guitar and keyboards, too. But his first love was the accordion, and the quirky instrument will always be his main squeeze. Torriglia comes from a musical family. His father, an Italian immigrant who worked as a wholesale butcher, played saxophone and clarinet, entertaining at family gatherings. His big sister played piano.
At 6 or so, he first laid eyes on the object of his affection. "I recall one day some guy -- an uncle? a friend? -- came over with an accordion," Torriglia says. "I was completely mesmerized. I thought, 'That's the coolest thing in the world.' I still do."
Of course, not everyone shares the same impression. The accordion -- the Belly Baldwin, the Stomach Steinway -- is usually considered one of the world's most cumbersome, homely and just plain hokey instruments.
At the birthday party, Sandra Tuinzing slips through the patio with two friends, on their way to dinner inside the restaurant. She pauses a moment to compliment Torriglia. "My husband would love that," she says. She explains that her husband, an amateur accordionist, used to practice as a kid at his family's house on Mount Tam. They had two big dogs at the time. "He'd play," she says, clearly retelling a story that has made the rounds in the Tuinzing family, "and the two black Labs would howl. Ha!" She laughs.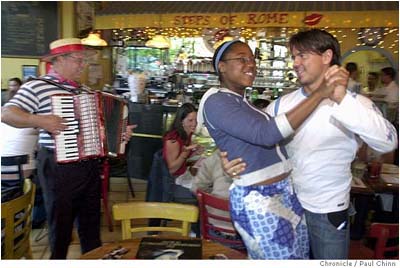 There's a well-traveled musicians' joke that asks, "What's the definition of an optimist?" The answer: an accordion player with a pager. Torriglia is a definitive optimist. From the rear office in his orderly, old-fashioned flat in the Marina district, where he grew up, he runs a one-man outfit called All Things Accordion. Under that rubric he sells accordions and sheet music over the Internet and books himself and other Bay Area accordionists to play any gig that will have them. And yes, he has a pager.

Pictured above: Torriglia goes Italian for a North Beach gig that inspires Roberto Savorani and Carmen Bullard to dance - Chronicle photo by Paul Chinn.
Sometimes it even chirps. Last spring, while enjoying a rare unscheduled day in Geyserville, Torriglia got a page from the Napa Mustard Festival. The event was suddenly in desperate need of some French-style bal musette that afternoon in Sonoma. Torriglia zipped back to the city, hefted his clunky Weltmeister into the backseat of his little Alfa Romeo and retraced his tracks up to Wine Country.
Ever searching for new innovations for his craft, Torriglia prides himself on his range of services. He can sing in Italian, something only a few contemporary accordion players can do. When in-line skating was the rage, he sometimes hired himself out as an accordionist on wheels. "I like to think the client gets a little more bellows for his or her buck, " he says brightly.
With a wide, easy grin that shows off the pronounced space between his front teeth, Torriglia is predisposed to such cornball humor. Stocky and on the short side, with a pasta belly, a ruddy farmer's tan and a twinkle in his bespectacled eyes, he's unfailingly friendly, instantly likable.
The costumes don't hurt. When he plays polkas, he wears lederhosen and an alpine hat; when he plays Italian, he dons his gondolier's outfit. Once, hired to accompany a fashion show for Joe Boxer, he wore smiley-face boxer shorts, cruising around the event on his in-line skates. "Literally, I wear different hats," he jokes.
Ignominies? It's just part of the gig. The accordion puts a smile on people's faces, and for the habitually jovial Torriglia, that's more than enough.
He took lessons in grade school, playing his first solo gig right around puberty, at a Freemasons luncheon. It's a fuzzy memory. "I remember my teacher sent me there," he says. "I was probably petrified."
In 1969, at the height of hippiedom, he played accordion during Sunday brunch for the sidewalk diners at a Union Street restaurant, selling lemonade on the side. Somewhere around that time he bought tickets with some friends to a Van Morrison show at the Avalon Ballroom. It still sticks out in his mind. After complaining twice about the brightness of the stage lights, Morrison stormed offstage and didn't return. For Torriglia, it was an early lesson about the duty of a performer to please his audience, whatever the circumstances.
After graduating from St. Mary's College in Moraga, he found work in oldies and wedding bands. At first he played a teetering bank of keyboards, Emerson, Lake & Palmer style: "I had five keyboards stacked up, a Hohner pianet, a Crumar Orchestrator. My left hand would hold them still."
But he kept drifting back to the accordion. By the late '80s, he was committed for life, becoming a charter member of Those Darn Accordions, one of several spirited polka bands (such as Polkacide) that made San Francisco the unofficial home of "alternative" accordion music.
An honest job in technical writing eventually forced him off the road, and he left Those Darn Accordions to concentrate on local gigs. Three years ago, he took the plunge of independence, leaving the day job to devote all his waking hours to All Things Accordion. For Torriglia, it's rewarding work, if not especially lucrative. "I'm not making six figures yet," he allows with a smile.
A typical appearance might earn him $250. Two weeks ago he was hired to provide the music for a dinner at North Beach Restaurant, playing for a roomful of visiting mayors and aides in town for the Mayors' Conference on Technology. With specific instructions to keep himself in the background, Torriglia was surprised when one attendee broke off a conversation and leaned in his direction. "What's that song," the man blurted, "that amazing song?" Then it came to him. "When -- the -- moon hits your eye like a big pizza pie, that's amore!"
"And six guys all started singing," Torriglia recalled the next day. "I don't even think they were drunk at all. These guys, I think they were just real ready to cut loose. The whole mood kind of livened up."
The requests, of course, seldom vary. If it's an Italian restaurant, it's either "That's Amore" or "Volare." If it's a polka party, they want the "Beer Barrel Polka." People ask so frequently for "Lady of Spain" -- the signature song of accordion icon Dick Contino, who got his start in San Francisco -- Torriglia made it his Web domain: www.ladyofspain.com.
An instinctive self-promoter whose apartment prominently features several framed enlargements of his items in the late Herb Caen's column ("19 times when he was alive and once posthumously," Torriglia says proudly), he was on the original steering committee for the Cotati Accordion Festival, now in its 13th year. He once ran a successful campaign to have the month of June declared National Accordion Awareness Month.
And in 1990 he petitioned to have the accordion designated the Official Instrument of San Francisco. Researching his case for the Board of Supervisors, he discovered that the piano accordion -- the modern variation on the older European button-style -- originated in 1907 in San Francisco. The inventor, Finau Piatanesi, was awarded a medal for craftsmanship at the 1915 World's Fair. He also learned that the city was once something of a hub for accordion makers, hosting at least eight manufacturing companies.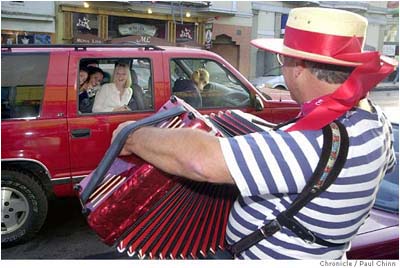 Torriglia takes genuine delight in such accordion arcana. Sitting in his spare home office at the rear of his spacious flat, overlooking a neighbor's clothesline and, beyond that, the Palace of the Legion of Honor, he describes how a large number of the calls he gets through All Things Accordion are from people simply looking for free advice.

Pictured above: Tom Torriglia serenades passers-by in North Beach - Chronicle photo by Paul Chinn.
Callers will say that they bought an accordion at a garage sale on a whim, or that they inherited their grandfather's beloved instrument and want to know how much it's worth. "I get a lot of 'What do I do now?' questions," says Torriglia, competing with the squawk of his office music of choice, an Internet stream of Radio Monte Carlo.
Although he gets calls from all over, it's not as though the phone rings off the hook. His business, after all, is the accordion. In the grand opera house of life, it will forever be the instrument played by the guy on the street corner, busking for dimes.
"It's tough getting work," Torriglia acknowledges. "Sometimes I may get a little discouraged, but I try to turn it into a positive by thinking of new ways to market myself. "I really don't sit around and mope too much. I figure I'm always working."
---
E-mail James Sullivan at: jamessullivan@sfchronicle.com