In 1999, Tim was an "Accordion Search" finalist whose talent impressed the audience, but he has since won himself a featured spot with the Lawrence Welk Orchestra and is showing off his accordion skills to appreciative audiences everywhere.

"It would be a dream - a dream come true, to play with Myron Floren," said the starry-eyed youth in a March, 1999 interview with USA TODAY. "I used to watch Myron Floren at Disneyland. I would sit there and stare," said the 3-year old Padilla who hails from Norco, CA, where he was dubbed "The Entertainer."

The dream came true. Padilla was chosen to play with the legendary Myron Floren and he has done so on several occasions, when the famous accordionist returns to perform with the Welk Orchestra at the Champagne Music Theater of the Welk Resort in Branson, MO.

Last year the Welk Group decided to put Time under contract, making him a member of the Welk Orchestra. They are continuing the tradition of a featured accordionist with the world-renowned group which kept the accordion out front for many decades during which they qualified as the longest-running show in TV history. Audiences everywhere loved to watch accordionists Myron Floren, week after week as he demonstrated the musical artistry of his instrument.

The ever-popular 20 piece Lawrence Welk Orchestra and featured starts of the celebrated Welk Show recently returned to Branson after performing a 28 show tour on the road. This was their first cross-country tour in 18 years and the first ever for their new accordionist, Tim Padilla. The group crisscrossed Canada from one corner to the other. "It was my first on-the-road experience and what an experience it was," says the excited young accordionist.

The response to the Welk tour was overwhelmingly positive and many of the venues were completely sold out. Now, back in Branson as part of the Lawrence Welk Show which is featured daily in the 2300-seat Champagne Ballroom, Tim is enjoying his first season as a star. In addition to his accordion music, he sings and dances, does a little comedy and is sometimes called upon to MC. He delights in rubbing elbows with seasoned performers such as "America's Sweethearts of Song," the Lennon Sisters, jazz clarinetist henry Cuesta, honky-tonk pianist (and accordionists) Jo Ann Castel and other members of the Welk Orchestra which is conducted by John Bahler.

The Welk Show which always maintained a strong identity tie to the accordion is proud of their bright new star. And Time is keenly aware that he has his work cut out for him as he aspires to follow in the footsteps of the great Myron Floren and the famous Maestro Welk.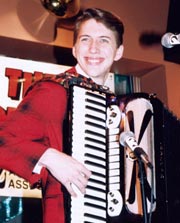 Early in 1999, the American Accordionists' Association and the Lawrence Welk Resorts of Branson, MO. joined forces to launch an accordion promotion in search of the 'hippest, sauciest accordionist in the USA," as it was described in USA TODAY (January 29, 1999 issue.)

Of the more than 150 video taped entries which came from all over the country, five talented finalists were chosen. They were Terri Conte of Ocean, NJ, Dwayne Dopsie of Metairie, LA, Phoebe Legere of New York, NY, Tim Padilla of Norco, CA and Jason Stephen of Kansas City, MO.

The final playoff among these five was held at the Welk Resort in Branson and the exciting young Cajun accordionists, Dwayne Dopsie, took top honors. His music and dance sent electricity through the standing-room-only auditorium and the judges were absolutely captivated by his performance.

The Welk group which was looking for a young accordionist for their orchestra eventually decided to hire finalist Tim Padilla because his broader playing style was more in keeping with the Welk Orchestra tradition.

The overall promotion was covered by more than 100 newspapers and wire services as word went out about this unusual "Search for the Hottest Accordionists." It was mentioned by Jay Leno on his TV show. Over 200 accordion press kits were distributed to the media by the AAA. Competition Dwayne Dopsie appeared on several TV shows including ABC's Good Morning America and the CBS Sunday Morning Show covered the whole event, from airport arrivals of the finalists throughout their performances with a lengthy TV segment.

For more information please visit: www.ameraccord.com