Announcing the first annual
National Button Accordion Festival (NBAF)
Yukon Czech Hall, Yukon, Oklahoma
May 25, 26, 27, 2007
Featuring:
All accordionists who shows up to perform!
Pre-registration requested, but not required.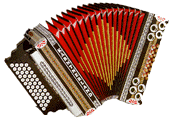 Now you may be asking: "How many people would respond to such an announcement?"

Believe us, as leaders of this event have asked that question over and over. But, everyone will know the answer on the 2007 Memorial Day Weekend. Be there so we can count you!

As leaders, we can tell you who have called have already made reservations at the local hotels, motels, and RV camps. Such names include the Alaska Polka Chips (Marge Ford, director), Alaska Button Box Gang, Fontana Button Accordion Club, Pivovar Trio, and the Arizona Button Accordion Club.

All this sounds like a good idea and a simple festival to create. It appears to be "Let's announce a festival and see who comes." We are here to tell you that festivals of this caliber just do not happen like that. It takes a lot of work, time, and money to schedule such a festival. Let us give you a little of the history of this exciting event.

History of the NBAF
Closing of the Far West Button Box Weekend

October 10, 2004, was a sad day for button accordion players when Frank Vidergar, president and musical director of the Slovene Button Accordion Club announced:
"After 26 years of success the "2004 Far West Button Box Weekend Festival would be the last festival."

The closing of this festival was devastating to button accordionists everywhere.
NAA to the Rescue

The leaders of the NAA, not willing to let such a great tradition die, set a plan of action designed to capture the excitement of the festival and to make it more accessible to button accordionists from all over the United States.
Step 1: Form a leadership team.
Step 2: Find a centralized location.



Ron Pivovar and Dick Albreski
The choices were not difficult. Since Ron Pivovar had been so successful in promoting polkas and dancing at the Dallas-based convention and he had been active in the Fontana-based organization, he was a natural choice for that team. Since the Oklahoma City area is considered the heartland of the USA, and Dick Albreski was so active in forming the Oklahoma Accordion Club, Dick became the natural choice as a team member.
Yukon Czech Hall
Yukon, Oklahoma soon became the target city because it is located near Oklahoma City and the very popular Will Rogers Airport. A quick call to the historical Yukon Czech Hall was received with great enthusiasm, and the work began. After hundreds of e-mail messages, hours and hours of work, numerous advertisements, and lots of personal promotion on the part of several people, it looks like this event will be highly successful.
Accordionists and accordions of all types and styles are welcome!
Dick Albreski writes: This is a new kind of festival. Imagine you, an accordion player, on stage before a group 'polka lovin' accordion players and dancers showing the talent that the Good Lord gave you. Your dream can come true at our 3-day festival where you can be a star. Regardless of the title, many piano keyboard players will be playing at this festival.
For more information, just visit the National Accordion Association or the Yukon Czech Hall websites. You can also contact:

For more information about the NBAF, visit the NAA website. http://www.accordions.com/naa click on NBAF, Yukon, Oklahoma.