This year, the
Texas Accordion Association National Convention
was absolutely GREAT!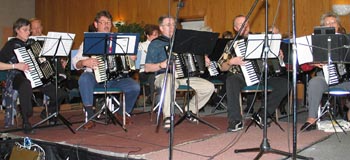 After arriving Thursday afternoon, it was clear that many accordionists are coming early in order to gear up for orchestra rehearsals and catch up on the latest accordion news. Alice Aman, director of the Accordion Band and bass accordionist for both TAA orchestras, was busy working with the early birds who arrived to practice a host of different musical selections for the Friday night concert. Alice deserves kudos for her patience, guidance and encouragement that she provides fellow accordionists.
Mary Medrick was tuned in to the early crowd and directed the Advanced Orchestra rehearsals with firm, yet nurtured artistry. Mary had arranged several pieces for the Orchestra which included other musical accompaniments such as the violin, trombone, and drums. These instruments added drama and feeling to the tangos, while featured accordionists Frank Marocco, John Simkus, Dan and Kim Christian provided superb solo parts which punctuated Medrick's arrangement of Blues in the Nite Medley and How High the Moon. Medrick's violin soloist, Amy Faires, did an outstanding job with two tangos, La Cumparsita and Jealousie.
Friday's schedules was filled with workshops ranging from Margie and Mike Aman's Musicality in the Aman Corner, to Nick Ballarini's Bass Hands-On. The Jazz Trio of Frank Marocco (Los Angeles), John Simkus (Chicago) and Nick Ballarini (Dallas) held us spellbound as the Trio traded off "secrets" of their own with a jazz version of Autumn Leaves. Gordon Kohl, Jim Rommel and Ponty Bone taught us about improvisation with dance music, fake books, and playing in an accordion band, respectively. Ron Pivovar of Pennsylvania, gave us a real treat demonstrating his talents on the Zuppa accordion during his workshop while Pete Nalda of Austin led his Jam Session for all instruments.


Randy McPeck (left) of Minnesota, a young and accomplished chromatic button accordionist, gave us a treat with his solo performance.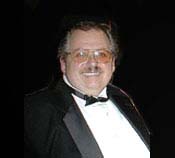 Paul Pasquali (right) organizer of the Las Vegas International Accordion Convention gave a workshop on Understanding Accordions, and later presented Norman Seaton (President of TAA) and the TAA, with the 2000 Frosini Award for fostering public awareness of the versatility and musicality of the accordion. This award is shared with all the local associations of TAA who promote the accordion throughout the state of Texas.

Not to be outdone, Norman received his beloved "Norman Accordion" from Michelle Boddicker and the Dallas locals so that he TOO can express his "accordion awareness" (Norman is pictured at the bottom of the page bidding farewell with Michelle playing the... "Norman Accordion."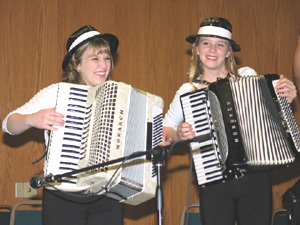 Saturday's workshops began remarkable performance by Dan and Kim Christian of Denver, Colorado, and the seven member TAA Youth Orchestra who demonstrated How to Be a Better Accordionist. Their showmanship was demonstrated by lively choreography and toe-tapping music such as The Dragnet Theme Song.

Dan and Kim showed off their keyboard agility and encouraged us to practice technique and speed to improve our own style. (pictured right are two of the younger performers at the TAA convention, Jamie Maschler and Carissa Christian.)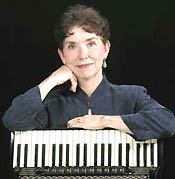 Legendary LA jazz artist Frank Marocco followed with Jazz 101, demonstrating improvisation with his own compositions including Liars Polka from the film Grumpy Old Men. Included in the Saturday lineup were two World Class women MIDI-Accordionists, Janet Todd of Utah and Betty Jo Simon of Kansas. Using her new Concerto MIDI, Janet Todd (left) played with heart and soul with a special patriotic medley and included her fiery style of play that captivated the audience. Betty Jo Simon dazzled the crowd with Ravel's Bolero played on her Baldoni MIDI and told us the secret of her success, a nurturing yet demanding Italian mother. She certainly did her job well Betty Jo.
The Friday night and Saturday night Concerts gave the audience a real treat. The program included most of the artists listed above plus two accordion orchestras. The TAA Accordion Band, led by Alice Aman, rounded out the Friday night performance with Hava Naglia, Tequila, Irish Eyes, Crazy Rhythm and a few polkas to name a few. All the participants thoroughly enjoyed performing with the Aman Band can't wait to try it again! Great job Alice!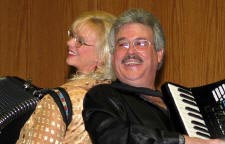 On Saturday, the TAA Orchestra led by Mary Medrick showcased a variety of musical styles which included a Blues Medley arranged by Medrick which featured Rhapsody in Blue, Blues in the Night, Birth of the Blues, St. Louis Blues and Limehouse and another jazz arrangement of How High the Moon with accordion soloists Frank Marocco, John Simkus, and Dan and Kim Christian (left) and Mike Medrick on trombone. Two tangos, La Cumparsita and Jealousie, were punctuated by violin soloist Amy Faires. Alice Aman graciously accepted the responsibility of bass accordionist for the TAA Orchestra. It was another WONDERFUL concert.
Afterwards, musicians spent the evening in jam sessions and conversations filled with fun, laughter, music and joy, till the early morning hours. Time seemed suspended, if only for the moment, as the convention neared its final hours.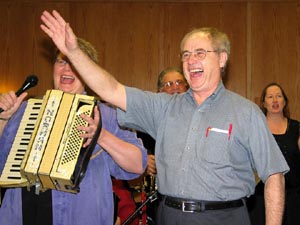 Many thanks go to the members of the TAA Board and all those who made this convention a success. The endless hours of planning, communicating, & organizing help support the convention. Musicians, workshop leaders, stage grips, accordion dealers and sponsors who support TAA make this Convention special every year. We appreciate you! The food was fabulous, the hotel staff were gracious and helpful. To all those who assisted TAA in this year's convention, we say BRAVO.
Now rest up, for next year!