Pietro Frosini, renowned as much for his compositions as for his accordion playing, was born Pietro Giuffrida to a farming family on August 9, 1885 in the Mascalucia province of Catania, Sicily. In 1888 he was blinded by an attack of measles, but eventually sight was restored but remained defective for the rest of his life. He began to play on a toy accordion in 1889, coaxing nursery tunes from this little instrument. In 1891 he was kidnapped by a fanatic "Lover of children", but returned home again after six months.

In 1893 he began playing his father's full size chromatic accordion, which he mastered in a short period of time, and could play overtures and operatic selections. In 1895, aged ten, he was enrolled in the Municipal conservatory of Fine Arts, where he took up the cornet, since the accordion was not accepted.


In 1898 he became a pupil of Maestro Francesco Paolo Frontini, and under his guidance studied composition, harmony, etc.. as well as gaining many awards for his playing of the cornet. In 1902, he transferred to the famous Milan Conservatory of Music to finish his studies, and then accepted a job as Cornet player in the British Navy Band stationed in Malta, serving for some two and a half years. He contracted malaria, which damaged his lip embouchure, and he had to give up cornet playing for good. So he went back to his first love, the accordion, and was heard playing "Poet & Peasant Overture" by Suppe by an American Vaudeville agent, who brought him to the United States in 1905, and embarked him on an immediately successful Vaudeville career in leading theaters all over the country, including the Keith-Opheum Circuit in New York, as "Frosini, Wizard of the Accordion". (Frosini at 21 years old)

One of the first of his compositions to be published in the USA was the song "The Chalice" to words by E. Seldon, published in 1908 by Maurice Shaprio of New York. His first recording, on Edison Amberol was cylinder No. 103, issued in April 1909 was "Wedding of the Winds" (John T. Hall), and this was followed in August with No. 192 "Poet and Peasant Overture" (Suppe), and the first recording of his own original composition"Seneca Waltz", named after Lake Seneca, near Ithaca, NY where he vacationed in the summer, was issued as No. 223 in October 1909, followed by "Amoureuse Waltz" (R. Berger) on No. 347 in February 1910. This latter title was also issued by the Victor Company on Disc 16434 with the artist named as "P. Frosini". Apparently, Frosini adopted this name as a tribute to his teacher F. P. Frontini when he first started his playing career in the United States. He never used his first name, as his great contemporary Pietro Deiro (1888-1954) was always professionally known as "Pietro".

In 1911, Frosini traveled to England for a very successful tour of the leading music halls in London and the provinces, including six weeks at the Empire, Leicester Square, and a command performance before King George V. He also made a number of recordings in England under his own name and under the pseudonyms "S. Fregoli" and "G. Arditti".


In 1913 he was back in New York, where he sent for his family to join him. In this same year Edison reissued his first wax recordings on the new "indestructible' Blye Amberol cylinders, and in the following year started a series of recordings on Blue Amberol cylinders and the new Edison Diamond Discs, which continued for a number of years.

In 1918 four of his original accordion compositions "Omaggio a Pietro" Overture, "Panama Exposition Overture", "On to Paragon" March, and "Rag in D Minor" were published by Quattrociocche Edition, Steubenville, Ohio, together with several original compositions for the pianoforte.

In 1920 he met and married Miss Alfride Larsen in Philadelphia, a music-hall artist of Danish descent, and in 1924 bought a home in Beechhurst, Long Island. In 1925, he retired from the continual traveling caused by his vaudeville activities due to increasing ill health. In the 1930's he started teaching, and also started playing on the radio and continued composing with the majority of his works published by Alfred Music Company, NY. He had resumed recording with Victor in 1928 and in 1934 he also made a number of discs for Decca, and it is interesting to note that the great majority of these were of his own original compositions - a tribute to the appeal and value of his work, since normally the company dictates what the artist should record, usually 'Known' or "Popular" material.

In 1940 he bought a new home in Sunnyside, Long Island, and his publications of original and transcribed works began to spread to other publishers (Pagini, Pietro Deiro Publications etc..) and he joined the American Society of Composers, Authors and Publishers (ASCAP) in 1942.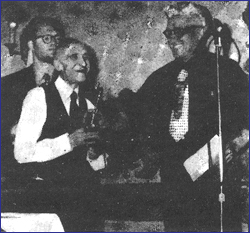 In 1949 his beloved wife Alfride died, a sad blow from which he never really recovered, although well looked after by his brother and sister. In July, the American Accordionists Association (AAA) presented Frosini with a Plaque for "Outstanding Ability, Service and Accomplishment in the Accordion Field". Pietro Deiro made the actual presentation in the Montparnasse Restaurant, New York City during the First Annual Banquet of the AAA, and the frail little figure of Frosini was greatly cheered by all assembled as he responded to thank them all for this great honor, which, he said, he would treasure in his heart until the end. In 1951, after a two month period of serious illness, he died in his sleep on September 2nd, 1951. (Pietro Deiro (right) presents Frosini the AAA award in July 1949)

His work still lives on, however, in the many recordings of his playing, and even more in the many hundreds of published compositions and arrangements which have found favored with accordionists the world over. They included three large-scale Rhapsodies, the Symphonic Fantasy "Brittania" (which was specially composed as a test-piece for 'Accordion Day 1939" canceled by World War II), "Russian Fantasy", "Italian Fantasy", Carnival of Venice Fantasia with Variations.

However, it is the smaller works that the real charm of Frosini can be found, such as "La Mariposita", "Sicilian Serenade", "Love Smiles", "Olive Blossoms", and many many more. He left very little pedagogic material, but his pupil Maddalena Befloire edited and completed "Frosini's System of Bellows Shake" which was published by Pagani posthumously.

Always a player of the Chromatic Button key accordion, with a special bass system devised by himself, from the 1930's onward he used a Finto-Piano Accordion, which was really just a three row button key instrument, made to look like a piano accordion.

Although little in stature (he was about five feet tall) and for many years inhibited by ill health, the strength and energy of his playing was remarkable, and all his many compositions reflect his joy in living and sense of humor which he has left with us in the printed pages of his works.