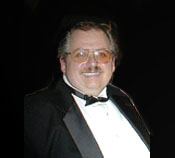 It's hard to deny the obvious: 49-year-old accordion convention organizer/accordion creator Paul Pasquali of Salt Lake City is not only as Art Van Damme said recently, "the most significant piano accordion figure in America when you look at all he is doing," he is truly
a man on the move
in the U.S. accordion world, a world that hungers for strong positive news!

Arresting assertion? Scan the data:
Since establishing the annual four-day Las Vegas International Accordion Convention (LVIAC) in 2000, from a first-year attendance of 244 the convention each year has bolted upwards to over 500 attending in 2002. Sizeable pre-registration for the 2003 convention indicates 600 registrants will max out the site for 2003. In fact, so successful has LVIAC become that it has outgrown the hotel's capacity where it is presently held. In order to meet impressive market analysis on LVIAC's growth projections and provide needed space for firms and entities clamoring to exhibit, LVIAC will be moving to larger convention quarters in 2004.



After selling in 1992 his six-year ownership share of San Francisco's respected Colombo & Sons Accordions---oldest U.S. accordion company at the time, Paul returned to his native Utah where he worked with electronic engineers for two years before launching the

Concerto

, billed as "the world's first truly digital and acoustic accordion, utilizing optical sensors" and which markets worldwide from his

www.AccordionInfo.com

website (some months "quite briskly," he says). Going beyond the MIDI, the

Concerto

is both an acoustic accordion--made in Italy, with electronic wizardry added here in America, providing over 350 orchestral sounds and giving the player "the power of a full symphony" to accompany the accordion.

At the recent August 2002 Twelfth Annual Cotati (California) Accordion Festival, one of the largest annual U.S. accordion festivals held with its five thousand-plus attenders, Paul was decorated as the year's "honorary director." It is a festival he served as a founding director 12 years ago while part-owner of Colombo.



In 2002 he added to his distributorships (which already included Piermaria, SEM, and the Concerto) Paolo Soprani, Scandalli, and Pigini, all top names on the accordion scene.



In March 2003 he will launch a Concerto off-shoot, the Virtual Concerto, designed for players who want a lighter weight, more economical version but who still want many of the digital sounds, features, and versatility that have become the Concerto's hallmark. It's an impressive step in expansion when so much simplifying and tightening-down are going on elsewhere in the accordion world.



In January 2003 he co-founded the Salt Lake Area Accordion Club, a first for a city that long has had some talented accordionists in need of an out-reaching egalitarian booster in their behalf.



Finally, in the latter part of 2003 he is scheduled to move his Las Vegas International Accordion Convention headquarters and his Accordions International headquarters to larger, more commodious digs in Salt Lake City. Not just metaphorically but literally he will be Salt Lake City's accordion man on the move!
Were there an umbrella national accordion entity watching over all accordion family affairs and bestowing its "U.S Accordion Man of the Year" for 2003, difficult to imagine Paul Pasquali not being a primary candidate.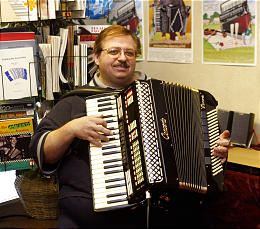 So, how did this former co-owner of America's oldest accordion distribution firm, co-founder of one of the nation's best-known accordion festivals, creator of the first digital/acoustic accordion, organizer of an international accordion convention, recent co-founder of his city's accordion club, and accordion player/teacher/booster of 41 years get hooked on the instrument?

Though piano lessons started at age 6 in his Utah open-pit copper mining town of Bingham, it was at eight when Paul saw Myron Floren on TV that his life's direction was shaped and accordion lessons began. Twelve years later a widening of the path came when as a college student he was asked to set school and his accordion students temporally aside and serve a two-year Mormon church mission in Italy, giving him Italian fluency not then existing in his Italian-heritage home, a fluency that has subsequently greatly facilitated frequent visits, discussions, and business with the Italian accordion manufacturing community. A bachelor's degree and a master's completed course-work followed while also playing the accordion at weddings/receptions and providing dinner music at one of Salt Lake City's well-known eateries.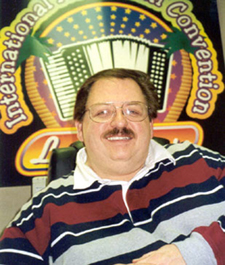 "While playing, sometimes people would ask how they could get an accordion. They liked its music. After awhile I decided to import three instruments' and sold them within a month! Soon I was bringing in ten at a time." And the die was cast. He began touring cities throughout the West and then the entire U.S., placing ads in local newspapers, renting a motel conference room, inviting the public to come, hear, and examine fine imported accordions. He obviously did well, acquiring in 1986 a sizeable share of the venerable Colombo & Sons. And the rest is history, as they say.

Today a number of knowledgeable U.S. accordion scene watchers say the Las Vegas International Accordion Convention (www.accordionstars.com) is the most positive accordion thing happening in the land. It's venue is at the undisputed live-entertainment capital of the world where Paul brings in the "accordion legends," as he calls them, for entertainment, mixed with solid doses of classes, workshops, exhibitors, undeniably good food---and plenty of great accordion music!


A keen supporter of Paul's is renowned jazz accordionist Art Van Damme who says, "People from all over the country, in fact all over the world, come and get rejuvenated about the accordion. (pictured right at the 2002 Las Vegas International Accordion Convention microphone, left to right, Paul Pasquali, Gina Brannelli, and Art Van Damme.)

It isn't for student competitions, it's for adults of all playing and interest levels. It's plain to see they love it. The country is filled with people who started to learn the accordion decades ago but who dropped out to do other things in lifes, but they never lost their love for the instrument. He's really tapped into something and has the smarts to make it work."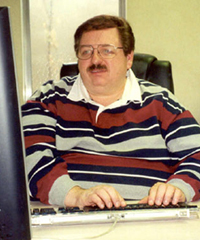 For Paul (pictured working away at his desk in Salt Lake City) an even larger vision wistfully beckons: "I love the accordion. I love its music, its fans, players, teachers, associations, manufacturers, distributors, commercial support community, our growing communication websites, clubs...' all of it. What I like to think happens at Las Vegas is family gets together. I'd love to see the whole American accordion community find a way to be family. We have so much in common, so much that binds us. And have you ever met an accordion person you didn't like! I love 'em all and want them all to succeed, every last one of them."