ATG - Chicago 2000
---
Speical Guests:
Frederic Baldo - France
Vitali Dmitriev - Russia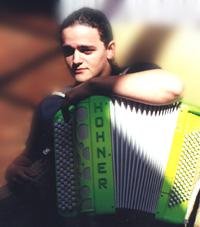 Baldo and Dmitriev a Smash Hit at ATG!

French accordionist Frederic Baldo caused quite a sensation at the Accordionists and Teachers Guild, International (ATG) Festival in Chicago July 20-23rd, 2000. Combining phenomenal technique, rich musicality, a humorous and contemporary style and a fluorescent green accordion, Frederic received standing ovation after standing ovation all weekend long, as concert attendees were treated to performances, the likes of which have never been heard on US soil before!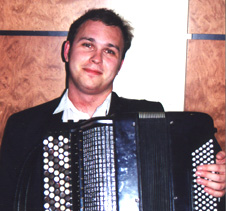 The other international guest Vitali Dmitriev (St. Petersburg, Russia) also took the convention by storm, performing a tremendous array of more serious music, also receiving many standing ovations. Both guests have won the Coupe Mondiale World Accordion Championships in their respective categories, and were part of the ATG 60th Anniversary Celebrations.

The 2001 ATG Festival will be held in San Antonio, Texas from July 19th to 22nd, 2001.
Millennium Festival Orchestra
---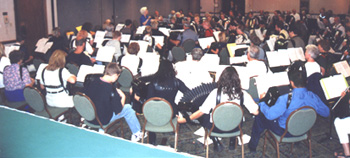 Frank Marocco, Jazz legend from Los Angeles, California was one of three world famous conductors of the 80 strong ATG Millennium Festival Orchestra. The Orchestra was also conducted by Joan C. Sommers, (pictured conducting a rehearsal) Professor of Accordion at the University of Missouri - Kansas City and 97 year old ATG President Emeritus, Anthony Galla-Rini. The program included six works, two directed by each of the guest conductors.
Program
Minuet from Don Giovanni by Mozart (conducted by Anthony Galla-Rini)
Novitango by Piazzolla (conducted by Joan Sommers)
Medley from Star Wars by John Williams (conducted by Joan Sommers)
Crazy Rhythm by Meyer/Kahn (conducted by Frank Marocco)
How Long Has This Been Going On? by Gershwin (conducted by Frank Marocco)
Paragon March by Anthony Galla-Rini (conducted by Anthony Galla-Rini)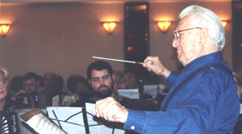 The Paragon March, composed by Anthony Galla-Rini was made the "Official March" of the ATG. Composed in 1947 by ATG President Emeritus, pictured conducting this work at the 2000 Festival, it will be featured at each festival, and other activities representing the ATG.
ATG Workshops
---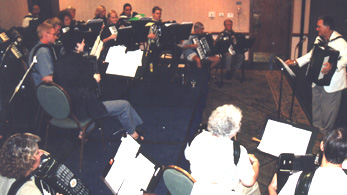 The ATG held several workshops ranging from hands on experience in improvising directed by Jazz legend Frank Marocco who is pictured directing the workshop group. Each of the participants was given the opportunity to take a turn at improvising, as the workshop orchestra provided the backing.

Other workshops included:

Music with A Smile by Jane Christison
Original Compositions by Stas Venglevski
The European Tour by Joanna Arnold and Stan Darrow
Celtic Accordion by Brett Gibson
Adding Some Razzle Dazzle by Tony Lovello
ATG Virtuoso Entertainment Competition
---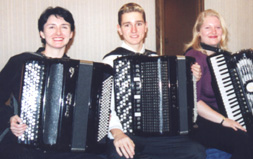 The ATG held a Virtuoso Entertainment Competition. The contest rules were the same as for the CIA Entertainment Competition. Each candidate was required to present a 15 minute program of choice, consisting of more than 3 pieces of different style and character.




The results as follows:
First Prize - $1,000 - Lidia Kaminska (Poland) pictured above left
Second Prize - $500 - Paula Harris (New Zealand) pictured above right
Third Prize - $250 - Sam McGhee (USA) pictured above center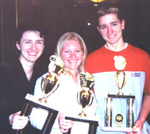 The US Open Championship Category was won by Paula Harris, New Zealand.
Festival Fun
---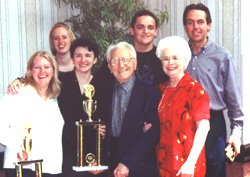 Pictured left to right, Paula Harris, 2000 US Open Championship winner, Cathy Sommers, 1999 ATG United States Champion, Lidia Kaminska, 2000 Virtuoso Entertainment Winner, Anthony Galla-Rini, ATG President Emeritus, Freddy Baldo, World Entertainment Champion and guest from France, Joan Sommers, ATG President, and Kevin Friedrich ATG 1st Vice President.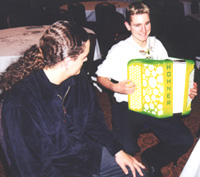 Here 3rd place winner of the ATG Virtuoso Category, Sam McGhee from Lee's Summit MO, gives the 'GREEN MACHINE' a whirl, under the watchful eye of its owner Freddy Baldo, from France.



Maestro Anthony Galla-Rini signs an autograph for member of The "K" Trio, Walter Kasprzyk, with Joe Petosa of Petosa Accordions, and fellow "K" Trio members Mary Kasprzyk Tokarski and Julie Kasprzyk Cardona watching on.