Dr. Schimmel to Unveil Second Cyber Symphony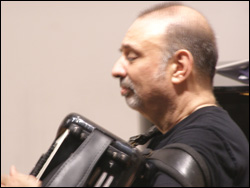 Accordionist and composer, Dr. William Schimmel will release a new Cyber Symphony which will be available in MP3 format for downloading. Autographed hard copies will be available on special request. Its title is VIENNA GENESIS/ACCORDION CULTURE and it is in eight parts: A Bach Reality, Stratta/Matta - Lehar's Widow not so merry, Hava Nagila, Von Suppe's Morning, Noon and Nite in Vienna, W.A., Fur Elise, A Portrait of Harry Lime and Danny Decon in Wildwood New Jersey 1953-67 (The Genesis of a Culture).

Vienna Genesis is a series of illustrated manuscripts on fragments of the Book of Genesis. They back to the 6th Century in Syria and are housed in Vienna at the Osterreichische Nationalbibliotheck. A link will be provided to view these manuscripts on line while listening to the Symphony. Vienna is also the birthplace or "genesis" of the accordion hence the title: VIENNA GENESIS/ACCORDION CULTURE. The fifty minute symphony is performed by Dr. Schimmel on accordion, bass accordion, piano and some vocals; Allyssa Lamb, vocals and melodica; Kamala Sankaram, vocals and accordion and Dragica Banic-Curcic, accordion. Mss. Lamb, Sankaram and Banic-Curcic have been recipients of the Order of the Shield Diploma under the tutulage of Dr. Schimmel.The Symphony will be ready for download at the end of December, around Christmastime.For furthur information: billschimmel@billschimmel.com or visit www.billschimmel.com.


---
Accordion Museum Opening in New York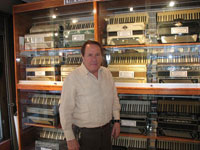 The opening of the Alex Accordion Museum takes place on December 7th, from 6 pm to 8 PM Alex Carozza, a prominent accordion dealer and technician is opening New York City's only accordion museum on 48th Street in Times Square, 165 West, 48th Street, between 6th and 7th Avenue.

"Everyone wants to play accordion today and I want to show them its history. I've been collecting accordions my whole life," says Alex, "but my wife was going to kill me with all the accordions piling up in our home!" So Alex brought them to his 48th Street shop, realized he had amassed a very interesting collection, and so, the Alex Accordion Museum was born!

The display includes NYC's Acme Accordion, from 1941: black with metal pinstripes, suggestive of the Chrysler Building. There's the E. Galizi Bros. model, an angelic ivory body with a gold pearled inlay, circa 1920. Then, there are true relics such as a Soprani accordion from the first line of accordions to ever use a keyboard instead of buttons on the right hand side. There's also the third prototype for the bandoneon, hand made by bandoneon inventor Heinrich Band in the mid-1800s. But there are also 21st Century accordions like the Roland FR-7, with integrated electronics and no reeds.

Born in Italy, Alex and his brothers fled the Mussolini regime to Buenos Aires in 1933. There, he worked at the Maestro Accordion factory, hand-making and tuning reeds, working his way up to Chief Technician. After decades of efforts, Alex was finally able to immigrate to the USA and in New York, he continued his career as an accordion technician and retailer. He is now the proud owner of Alex Accordion and Guitar on 48th Street in Manhattan, Music Row.

The Alex Accordion Museum will be open to the public and free, Monday through Friday 10 am to 6 pm, starting Friday, December 8th. The opening party is by invitation only and space is limited.

For further information e-mail: benjamin@ickies.com


---
Norwegian Accordionist on Tour in USA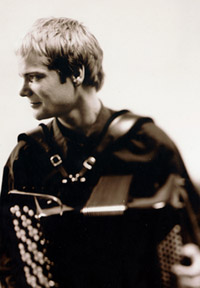 Norwegian accordionist Frode Haltli will present a series of concerts from 8-18 December 2006, in the United States as part of his tour with Maja Ratkje and POING.

Frode Haltli (b. 1975) studied the accordion at The Norwegian State Academy of Music and The Royal Danish Conservatory of Music. He ended his studies in 2000 and currently lives near Oslo, Norway.

At the Bergen International Festival 2000 he was awarded the "Young Soloist of the Year 2001" title by the Norwegian Concert Institute. His debut CD "Looking on Darkness" (ECM New Series) contains solo works written especially for Frode Haltli and Gagaku variations by Maja Solveig Kjelstrup Ratkje which is performed with the Vertavo String Quartet. The CD is produced by Manfred Eicher and received the Norwegian Grammy "Spellemannprisen" for best contemporary music album. The CD also received splendid reviews in international music magazines and the French "Prix Gus Viseur".

Frode started to play the accordion at the age of 7, and the next few years Frode won many national competitions and received several scholarships and legacies. He was awarded first prize by the professional jury in the televised finals of The Norwegian State.

Broadcasting's "Talentiaden 1991". He has also received prizes at a number of international competitions. In 1999 he won a second prize in the prestigious International Gaudeamus Interpreters Competition in the Netherlands.

Frode has played at music festivals and concerts in most European countries including Russia, in America and several Asian countries including Japan, Singapore, India and China. He has performed as a soloist with several orchestras in Europe and Asia.

Frode is actively working with chamber music. At present it is the trio POING which occupies much of his time. The trio which includes Rolf-Erik Nystrøm on the saxophone and Håkon Thelin on the double bass mainly performers contemporary music. Frode also plays with Trygve Seim (ECM) and Norwegian folk music in RUSK with folk singer Unni Løvlid and fiddler Vegar Vårdal.

His concerts include:
December 8-9
Other Minds Festival: JCC Kanbar Hall, 3200 California St., San Francisco, CA
www.otherminds.org or Tel: 415.934.8134
December 11
Hotcakes Gallery, 3379 N. Pierce St., Milwaukee, WI
www.hotcakesgallery.com or Tel: 414.961.7714
December 12
Renaissance Society, 5811 S. Ellis Avenue, Chicago, IL
(University of Chicago campus)
www.renaissancesociety.org or Tel: 773.702.8670
December 14
Issue Project Room, 400 Carroll Street, Brooklyn, NY
www.issueprojectroom.org or Tel: 718.330.0313
December 15
Tonic, 107 Norfolk PST, New York, NY
www.tonicnyc.com or Tel: 212.358.7504
December 17
National Museum of Women in the Arts, 1250 New York Ave. NW, Washington, DC
www.nmwa.org or Tel: 202.783.7982


---
Return of the Ethnic Dance Theatre's Nutcracker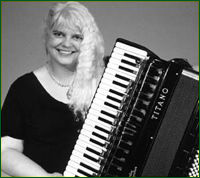 The Ethnic Dance Theatre (EDT) is pleased to announce the return of its acclaimed production of 'The Nutcracker!' In a 'ballet free' rendering, EDT brings E.T.A. Hoffman's original classic tale to life in a fast-moving show that includes traditional dances and exotic costumes from around the world. Tschaikovsky's famous score, adapted for small ensemble, is intermingled with lively folk music played live by the EDT Folk Orchestra, featuring accordionist Dee Langley.
'The Nutcracker!' will be performed at Concordia University's E. M Pearson Theater, 312 Hamline Ave., St. Paul. Performances take place: December 15th at 7:30 pm, December 16th at 2 PM and 7.30 PM, and December 17th at 2 PM
For further information e-mail: info@ethnicdancetheatre.com

---
Masterworks Series in Illinois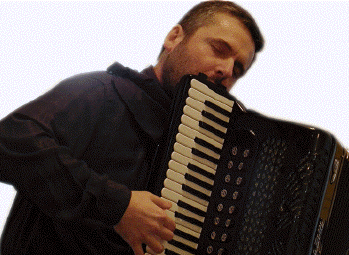 Italian accordionist Ivano Battiston performs in two concerts with the Quad City Symphony Orchestra, MD David Bellugi, on December 2nd and 3rd in the Centennial Hall, Rock Island, Illinois.

These concerts, part of the Masterworks Series, include performances of 'Overture to Il Signor Bruschino' - Rossini, 'Ancient Airs and Dances' - Luciano, 'Concerto for Accordion' ('Aconcagua') - Piazzolla, 'Concerto for Accordion, Recorder, and Orchestra' - Battiston, and 'Symphony No. 4 in A Minor, Op. 90' ('Italian') - Mendelssohn.

For further information e-mail: ivanobattiston@tin.it

---
Maria Merkelo's Accordion at the Krannert Center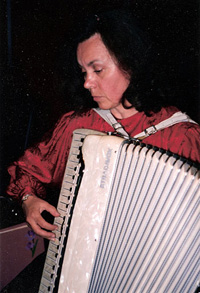 Maria Merkelo, the accordion's "Champagne Lady" at the University of Illinois, performed in two concerts within an hour in two theatres in the resplendent Krannert Center for the Performing Arts in Urbana, Thursday, November 16, 2006.

First, there was the 10th Annual Salvatore Martirano Award Concert in the Tryon Festival Theatre. Maria performed her part with the UI New Music Ensemble conducted by Stephen Taylor in a demanding piece scored for ten instruments entitled "Dolmen for a New Albion" by Nicholas Paul Vines. He's a thirty-year old Australian based in Boston as a Teaching Fellow and Resident Tutor at Harvard. Vines' career includes commissions and performances on several continents. The accordion was an equal partner with the clarinet, bass clarinet, horn, trumpet, trombone, percussion, piano, violin and cello. Almost every measure was in a different meter. The accordion's timbre provided a unique balance to the overall "sonic impression" of the ensemble. Maria was required to exert herself in both sustained bellows phrasing, as well as short bursts of sound as in one-half of a bellows shake.

Salvatore Giovanni Martirano (1927-1995) was an internationally acclaimed American composer and Professor Emeritus at the University of Illinois. This prestigious series of compositional competitions annually attracts more than 250 entries from all over the world. Salvatore Martirano's widow, Dorothy, is Co-Concertmaster of the Champaign-Urbana Symphony Orchestra. She's a frequent musical collaborator with Maria Merkelo, and they're often heard in many classical and non-classical venues throughout the Champaign-Urbana area.

Immediately following the performance of the Vines' work, Maria made her way backstage in the Follinger Great Hall next door for a costume change and to prepare for her performance as the only instrumental soloist on that evening's program by the Champaign-Urbana Symphony Orchestra conducted by Steven Larsen. The work was Dominick Argento's "Valentino Dances", a popular Suite from his 1994 opera, "The Dream of Valentino".

Argento, considered to be America's pre-eminent composer of lyric opera, is a past Fulbright Scholar, Pulitzer Prize winner, and he has a Grammy. He's a Professor Emeritus of composition at the Universithy of Minnesota and Composer Laureate of the Minnesota Orchestra. The suite called "Valentino Dances" is comprised of a series of tangos from the opera...all original tunes by Argento.

Maria Merkelo and her accordion brought to this performance the evocative sensuality that characterizes the tango. In order to fully and authentically realize the music of the tango dance, one must always think of the instruments of the free-reed/accordion family: bandoneon, bayan, chromatic or piano accordion. How fortunate is the Champaign-Urbana musical community to have at its disposal the unique musical presence of Maria Merkelo.

Maria's performance credits include many appearances with the Champaign-Urbana Symphony Orchestra, the U of I Wind Ensemble, the Prairie Ensemble, the Danville Symphony Orchestra, and the U of I Russian Folk Orchestra. As a performer and a consultant, she's been involved in numerous theatre, radio and TV productions.

It is such a rarity to experience the accordion in the concert halls of the USA and seldom is it heard with a symphony orchestra as a solo instrument. Hopefully, these occurrences will become more common as the accordion slowly regains its foothold as a legitimate mainstream instrument on the American musical scene.

You'll be able to hear this performance on Sunday, March 4, 2007, at 7:00 pm, CST, on WILL 90.9 FM's "Prairie Performances" series.


---
Alfonso Baldoni Passes Away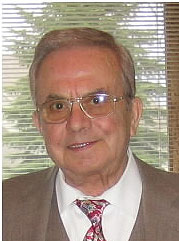 Performers such as Frankie Yankovic, Myron Floren and Sheryl Crow used Baldoni's repair and modification services for their accordions. Mr. Baldoni died from complications of heart bypass surgery at Community Memorial Hospital of Menomonee Falls. He was 82.

Being a master accordion tuner was a prestigious position when Baldoni grew up in Castelfidardo, Italy, a town considered the mecca of accordions, Ivo Baldoni said. His father moved his family to Milwaukee in 1956 because at the time, almost 80% of the accordions made in Italy were bought in the United States and Canada. "America at that time was a major consumer and importer of accordions, and my father looked at the map and said, 'Let's pick something in the middle,' " Ivo said. "And on the East Coast, there were too many Italians in the business."

Baldoni Accordions, on Appleton Ave. in Menomonee Falls, is one of the few accordion shops in the United States where the instruments are repaired and modified, Ivo Baldoni said.

The instruments sold for $1,100 to $9,500 each, and Baldoni's company sold about 200 accordions a year.

Most accordions are made in Italy and customized, sold and distributed in America.
At the family store, Alfonso Baldoni was proud of his ability to learn what type of accordion his customers desired.

When it came to playing an accordion, "anyone who came to the store was equal to him," his son recalled. "He had the gift to understand people and their needs."

In addition to his son, Baldoni is survived by his wife, Nancy, daughter Annette Pigini, and four grandchildren.

A private ceremony was held in Menomonee Falls and Mr. Baldoni will be buried in Castelfidardo, Italy.

---
Victor Prieto Trio at Cornelia Street Cafe in New York
The Victor Prieto Trio will be performed on December 3rd, at 8.30 pm, at Cornelia Street Cafe, New York.


The trio includes Victor Prieto - accordion, Carlo DeRosa - bass and Mark Ferber- drums.

For further information on upcoming performances in the New York area please e-mail: victorprieto2001@yahoo.com


---
New York Accordionist in New Zealand
The Dargaville Town Hall was filled to capacity for the concert entitled "A Moment in Time" held by New York based CIA President Kevin Friedrich in his home town of Dargaville, New Zealand to commemorate the 30th anniversary of the passing of his former accordion teacher, the late Mr. Ben Emmett.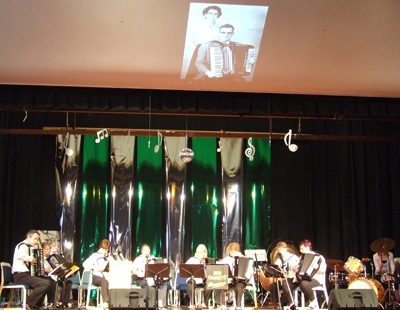 A spectacular success, the concert featured both local artists as well as guest soloists and orchestras from Auckland including NZ Champion Campbell Hill, Entertainment Champion Grayson Masefield, the Starlight Duo (Lionel Reekie and Maurice Jones), the North Shore Accordion Orchestra and Musicale Accordion Orchestra.

Eight members of the former Ben Emmett Accordion (BEA) Orchestra formed a reunion group to perform some of their favorite orchestra pieces from 30 years ago. Pictured are the members of the BEA Reunion Group with a picture of Mr. and Mrs. Ben Emmett projected on the overhead screen.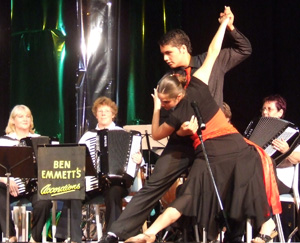 During their many performances from more than 30 years ago, members of the orchestra would go out into the community and perform fundraising concerts for various community projects. During their concerts, the conductor of the orchestra Mr. Ben Emmett would put down his baton and invite his wife to stage from the orchestra and perform a Tango. This was reenacted by the BEA Reunion group. This concert served as a fundraiser for the Dargaville Museum's establishment of the new Music Wing.

A highlight of the concert came when all accordionists combined to form a 45 piece orchestra to accompany soloist Kevin Friedrich on "Gem of the Kaipara" composed by Gary Daverne, conductor of the Auckland Symphony Orchestra. Conducted by the composer, the work was commissioned accordion and orchestra in honor of the late Jenny Cocurullo, and was the second performance of this work in Dargaville.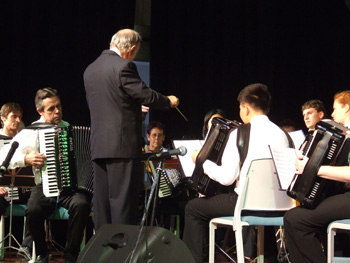 As a grand finale to the concert, the concert hosts, the Kauri Chorus joined all the musicians including the three accordion orchestras, soloists, concert performers and the audience for a grand Proms style Sing-a-Long conducted by Gary Daverne with Kevin playing an 1835 French Flutina.

At the conclusion of the concert, musicians, guests and dignitaries traveled to the Dargaville Museum for a formal reception and Ribbon Cutting Ceremony where Kevin Friedrich officially dedicated and opened his accordion exhibition entitled "Accordion Gems, A Master Collection of Accordions Through Time".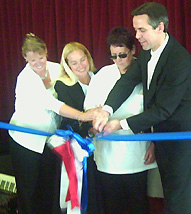 The fascinating collection of almost 100 instruments from the early 1800's to today, is the only such exhibition in the Southern Hemisphere, and will serve as the anchor display at the new Music Wing at the Dargaville Museum.

Kevin invited the three daughters of the three dedicatees, Joan Brown, daughter of Ben Emmett, Fiona Managh, daughter of Jenny Cocurullo and Heather Maseflield, daughter of Allan Jones to join him in cutting the ribbon, signifying the official opening of the exhibition and exciting journey ahead in the efforts to preserve and enjoy the rich and colorful history of the accordion. Pictured to the left are Fiona Cocurullo, Heather Masefield, Joan Emmett and Kevin Friedrich.

For more information on the Dargaville Museum, please visit www.accordions.com/kevin/museum.htm

---
Tony Lovello in Peoria, IL

..."Will it play in Peoria?" Yes! Almost every year since 2000 "The Sultan of Squeeze" Tony Lovello has made concert appearances in Peoria, IL, under the auspices of the Peoria Area Accordion Club. In fact, the club is credited with helping to bring Tony out of "show business retirement"

Sunday, November 19, 2006, Tony played for an enthusiastic crowd of about 60 accordionists and enthusiasts at the German-American Central Society "Lindenhof". Lovello, a native of Buffalo, NY, will be 74 next month and has been playing the accordion since he was five, when his father taught him the fundamentals. Otherwise, Tony developed his unique set of skills by himself.

He straps on a "golden age" Petosa AM-1100 that is over 40 years old. Then, he effortlessly, and "wirelessly", stands...strolls...briskly walks...and fans the accordion in front of and among the audience! It's not possible to tether Tony, so he's used a wireless mic system for years and his sound comes out of twin Polytone Taurus Elite speakers.

Tony talks with and engages the audience throughout his performance, often rewarding them with free CD's if they know the English translation to an Italian title or if they "get it". For example, when an accordionist walks and bellows shakes at the same time, it's not merely a performance... it's "showing off"! Tony can do it, and he does it multiple times during a one-hour program.

Tony was still a teen when he was discovered by Eddie Cantor, famed entertainer of vaudeville, radio and motion pictures. The Lovullo family (Tony later changed that to Lovello) was living in Los Angeles. Tony was a teen accordion phenomenon, releasing his first album at 19 (with a wonderful article and review in the old "Accordion World" magazine). He performed with many big names in Hollywood, toured with them, and later had his own reviews in Las Vegas and Lake Tahoe. Tony was also a member of the famed "The Three Suns".

They go by so fast...most of them...it's difficult to create a list of the tunes and performance numbers Tony presents during his program. The stand-out's include his trademark "Malaguena", which is almost entirely performed with bellows shake. "Cumina" is lightning fast. Many may remember this signature title from the Freddy Martin Orchestra. "The Mexican Hat Dance" requires audience participation. Anna Vogel stepped up to Tony's keyboard and provided the second-hand, two-note answer to his melody. Anna's little sister Mina stepped in throughout the performance as Tony's towel girl.

"Dark Eyes" was a lesson in accordion style as Tony compared a recent performance he observed by a young Russian accordionist with his own. "Twilight Time", "Peg 'O My Heart", and "Don't Take Your Love Away from Me" were all signature tunes from "The Three Suns". Tony performed them in their entirety, often with a lilting walking bass line. In fact, it goes overlooked, or taken for granted, that the entire time Tony is performing, his hands are playing something on his accordion. There's always a bass line even while he's speaking.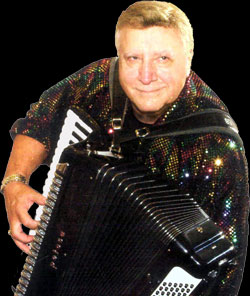 "The Theme from Ice Castles" was Tony's opening number. It was a study in contrasts demonstrating the dynamic range of the accordion and allowing Tony to showcase his trademark right arm vibrato. Many times throughout a single piece, and for the length of his programs, Tony will use "glissando's in thirds", three finger bass and chords, and his "six -finger" right-hand chord construction. Tony possesses a treasure trove of attention-getting techniques on the accordion.

Several members of the Peoria Club provided additional accordion entertainment, resulting in about three solid hours of non-stop music. Jay Landers performed solo's for about forty-five minutes prior to Tony's program. A segue was created with a special rendition of "Tony Boy" sung charmingly and convincingly by Shawn Denney with accompaniment by Jay, using Tony's arrangement of "Danny Boy" and other material. Wilanna Vogel, Peoria Club Program Chair, and Wayne Brodkorb, Peoria Club President, provided accordion and drums following Tony's performance. Tony joined them occasionally and there was dancing!

In the past six years Tony has criss-crossed the USA performing numerous times for every major national accordion convention, as well as regional, state and local accordion organizations and clubs. Along the way he's had five "Lifetime Achievement" awards bestowed on him. You can contact Tony Lovello at tlovello@ix.netcom.com or write him at PO Box 4433, Lexington, KY 40504.

Jay Landers is a free-lance writer of accordion activities and accordionist living in Springfield, IL. You can contact him at jllanders5214@msn.com

---
Promoting Your Accordion Services Free at AWW

The Internet is changing the way your customers are searching for services. The days of lugging out a 12 lb. telephone book to find very limited and outdated business information are coming to an end. People are still letting their fingers do the walking, but they're doing it over a computer keyboard. Below are some revealing facts from the Kelsey Group.
74% of US households use the Internet as an information source when shopping.
Approximately 45% of searches had a buying intent.
The percentage of respondents who used yellow page directories decreased from 75% to 62%.
(If you have a printed yellow page ad, it is time to consider buying a smaller ad and shifting your marketing dollars to the Internet.) The off-line Yellow Pages see the writing on the wall and are scrambling to transfer their business model to the Internet.

Businesses can no longer ignore these facts. If you want to be successful, you must have a presence where your customers are searching. Being found on the Internet is vital to the future of your business.



The Accordion Yellow Pages offers free of charge listing for all accordion businesses, teachers and for every type of service for accordionists. On the Accordion Yellow Pages site, you do not need to have a website for accordionists find you and contact you.


The search-accordion.com site is also free of charge, being a listing service for every type of accordion service but you must have a website. Viewers of search-accordion.com can click to your website.



Very popular is the AccordionLinks.com site where those accordion service providers with a website, can attract accordionists free of charge to their website.

All it takes is a little effort, to make sure your information on these three popular and very effective accordion sites is up to date. Your future success may well be determined by your ability to effectively adapt to the Internet. Should it be your New Year's resolution for 2006?

---
---
Note: In order to provide as much information as possible for the United States National Accordion News stories, many different sources are often researched to gather additional information and pictures to complement what has been submitted. This information is then correlated to provide the news on www.accordionusa.com in the spirit of which it is intended, which is to provide a free news service to the Accordion Community, specifically in the United Sates. If you feel any copyright has been violated please advise www.accordionusa.com and the article will be removed immediately.