---
Myron Floren Passes Away at Age 85
The accordion world is mourning the loss of Myron Floren who passed away at his home in Rolling Hills Estates, California surrounded by his family. He succumbed to cancer at his home on Saturday, July 23, 2005 and was 85 years old.

Myron, Lawrence Welk's longtime accordionist, joined Welk's orchestra in 1950 and appeared throughout the popular TV show's 27 year run. Although the "The Lawrence Welk Show" ended in 1982 and Welk died 10 years later at age 89, the shows were repackaged and still show on PBS stations around the country.

Myron was born on 5 November 1919, in Rosalyn, South Dakota. At age 7, he talked his father into ordering a Sears accordion and by the time he was eight years old, he was entertaining at the Bay County Fair in Webster.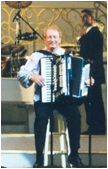 At age nine his father purchased Myron his first piano accordion. Much of his contact with other accordionists came through his exposure to their radio programs. Several talented accordionists such as Charles Magnante, Frank Gaviani and Anthony Galla-Rini, provided great inspiration for him.

He attended Augustana College in Sioux Falls, South Dakota where he met Berdyne Koerner, his future wife. Myron worked his way through college by teaching accordion and playing over local radio station, KSOO radio in Sioux Falls, performing on the early morning show that featured waltzes and polkas of Polish and Scandinavian origin.

When World War II began, Floren tried to enlist in the U.S. Army Air Corps, but was turned down for medical reasons. He enlisted instead in the USO and entertained the troops overseas.

When he returned from the war, Floren and Berdyne lived in Sioux Falls where Myron had a radio show. In 1946, they moved to St. Louis. One night in 1950, they danced in a ballroom where Welk was appearing, and Welk spotted Myron in the audience and asked him up to the stage to play. That night Welk offered Myron a job to play with his band.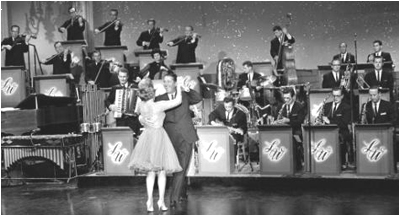 Myron joined Welk and stayed with him until the show ended in 1982. He played concerts throughout the country as well as the weekly radio show broadcast on the ABC network. Later that same year, the first television show was filmed and for over 3 decades the Myron and the Welk show were on national TV. Reruns still play on more than 200 public television stations around the United States. Myron Floren was the consummate performer for over 28 years on "The Lawrence Welk Show". Myron is pictured here performing with the band, while bandleader Lawrence Welk dances with the 'Champagne Lady' Norma Zimmer, in this June 25, 1964 photo.

In 1992 at a General Assembly in Trossingen, Germany, the Confédération International des Accordéonistes (CIA) awarded Myron Floren (USA) their Merit Award in recognition of his outstanding contribution to the International Accordion Movement.

In July 1996, the American Accordionists' Association (AAA) Festival honored Myron Floren, as "the widely acclaimed as the star of the Lawrence Welk TV Show which ran for 28 years". As part of the AAA festival, Myron Floren conducted a massed band of hundreds of accordionists at Independence Park in downtown Philadelphia, performed at the Myron Floren Tribute Concert (which starred Myron Floren with the Tim Laushey Orchestra) and he enjoyed the AAA Testimonial Banquet in his honor.


The Accordionists and Teachers Guild, International (ATG) inducted Myron into the ATG International Accordion Hall of Fame. The ATG Award read: MYRON FLOREN, In recognition of the extraordinary prominence you have brought to the accordion and the world of accordionists during a legendary career as an entertainer, you are hereby inducted into the Accordionists and Teachers Guild, International (ATG) "International Accordion Hall of Fame" - July 24, 2004, at the 64th Annual ATG Competition and Festival in Milwaukee, Wisconsin.

Myron is pictured here sharing a light hearted moment with Anthony Galla-Rini at his 99th Birthday Party in San Diego.

Over the years, Myron was a great supporter of the ATG and the AAA and other accordion events across the USA. One regular performance for Myron was at Wurstfest, New Braunfels, Texas. In all, Floren played at Wurstfest for 34 years, only missing 1998 to recover from heart surgery.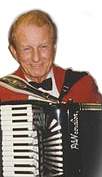 Myron was the quiet-mannered, fast-fingered accordionist from the popular Lawrence Welk Musical Family. Myron will long be remembered for his charm, graciousness and smile but mostly for his wonderful talent to make people happy playing the accordion.

Myron is survived by his wife, Berdyne, five daughters and seven grandchildren. A memorial service will be set in California at a later date.

The family has asked that in lieu of flowers, donations be made to a special fund that will be set up to benefit the United Service Organization or USO, which books entertainment for American troops overseas.

---
AAA Competition Announces $10,000 Winner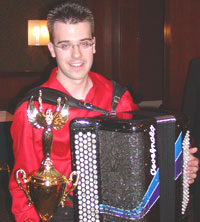 Dearborn, Michigan was the venue for the American Accordionists' Association annual Competition and Festival which sponsored one of the biggest prize pools for any accordion competition, with an impressive $10,000.00 First Prize, $3,000.00 Second Prize and $2,000.00 Third Prize.

Home town accordionist Julien Labro (originally from France who now makes his home in Dearborn) took the top honors with Alexander Poeluev (Russia) close behind and French accordionist Phil Bouvier taking 3rd Place. The top three contestants were separated by less than one point!

As a young boy growing up in Marseille, France, Julien watched a professional accordionist perform on television and was fascinated with the instrument, which is highly regarded in his homeland. He begged his parents to allow him to try his hand at it, and by age nine, it became obvious that they had a musical protégé on their hands.
By age fifteen, Julien, who had recently graduated from the Marseille Conservatory of Music, quickly began winning international awards, taking first prize in the CIA Coupe Mondiale Entertainment Division in 1996 and the Castelfidardo Competitions in 1997. After sweeping first place in the Marcel Azzola, Jo Privat and Medard Ferrero competitions in 1995 and 1998, Labro began studying under internationally acclaimed accordion maestro Peter Soave.

The liaison with Soave resulted in the opportunity for Labro to move to the United States, a dream that he had harbored for several years. Since 2000, he has lived and studied with Soave, and his reputation as a formidable and dazzling musician has continued to grow on this side of the Atlantic. Julien is currently a senior at Wayne State University in Detroit.

Under Soave's tutelage, he has mastered the free-bass left hand, learned classical bayan repertoire, and is studying both bandoneon and piano. Labro was the winner of the WSU's Concerto Competition in 2001, 2002 and 2003, and was recipient of the Lawson Scholarship in 2002, the prestigious Presidential Endowed Scholarship in 2003, and the Presser Scholarship in 2004. Labro was inducted into the Pi Kappa Lambda Honorary Musical Fraternity in 2004, and was recognized by the US Achievement Academy as a Collegiate All-American Scholar in 2003 and 2004.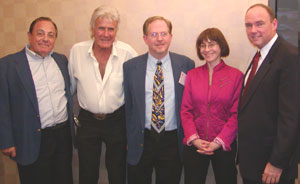 The distinguished Jury for the competition included:
Louis Coppola, the first contestant to represent the USA in the Coupe Mondiale World Accordion Championships, and has since made his career with the USA Air Force Strolling Strings which has taken him all over the world.
Dick Contino, well known accordionist who stars in the biggest show rooms from coast to coast.
Jeff Lisenby, a former US Champion and currently the most sought after accordionist and musician in Nashville, both as a performer and as a recording artist.
Michal Shapiro, associate Director of Music programming for Link TV and one of the top World Music Compilation CD Producers, including the popular Planet Squeezebox.
Dave Westerskov, the Talent Casting Director at Walt Disney Entertainment. His casting efforts support Disney properties in France, Japan and both properties in the USA.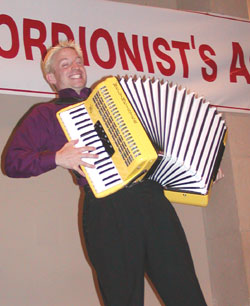 After hearing 19 contestants over the course of almost 10 hours, many of them already international champions, the jury was extremely impressed with the very high standard of the contestants and stated that it was almost impossible to choose three prize winners, when the standard was so high. (Pictured right is Brian Hubrich from Salt Lake City).

The competition was made possible, under the auspices of the American Accordionists' Association through the generous donation of the prize money by Mr. Steve Stolaruk, who offered the competition funds to host the competition in the memory of his wife, the late Vivian Vivio Stolaruk.

Mr. Stolaruk was so impressed with the standard of the competition, that in addition to the top three prizes totaling $15,000.00 he gave each of the other 16 contestants $250.00 each in appreciation of their efforts.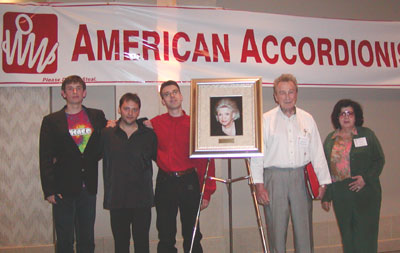 Both Mr. Stolaruk and his wife (posthumously) were presented the CIA "Honored Friend of the Accordion" Award in recognition of their generous support towards promoting such accordion activities.

Pictured left to right, Alexander Poeluev - Russia, Phil Bouvier - France, Julien Labro - USA/France, Steve Stolaruk and competition organizer Mrs. Faithe Deffner with a portrait of the late Vivian Stolaruk.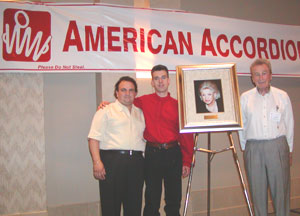 Julien is pictured on the right, with his teacher multiple World Champion Peter Soave who teaches at Wayne State University in Detroit.

At the conclusion of the final contestants program, when recognized for his magnificent financial support of the competition, the 300 strong audience who had been listening all day long to the various programs, gave Mr. Stolaruk a moving five minute standing ovation in appreciation of his efforts.

Below are the final results of the Vivian Vivio Stolaruk International Entertainment Competition for Accordionists Competition:
1st - Julien Labro (USA-France) 94.05
(Besame Mucho, Migliavacca, Russian Dance, Autumn Leaves & Pick Pocket)
2nd - Alexander Poeluev (Russia) 93.38
(Oblivion, Medley of Waltzes, Bassanova & The Bee)
3rd - Phil Bouvier (France) 93.25
(Tanguango, Le Parrain/La List de Shindler, Tendre Mystere & Besame Mucho)
4th - Jerome Richard (France) 92
(Tico Tico, Carmencita Medley, Liebertango & Averse)

5th - Marcin Wyrostek (Poland) 91.18
(Polka D'Enfer, Taraf, Besame Mucho & French Wind)

6th - Vitaliy Perog (USA-Ukraine) 90.7
(Light and Shadow, Steps, Bluesette, Cowboy & Brahm's Smile)
7th - Michael Vigneau (France) 90.25
(Notes Vagabonde, Adios Nonino, Trash Mazurka & Czardas)
8th - Alexander Sevastian (Candad-Belarus) 90.18
(Black Butterflies, Tango Medley, Celtic Dances & A Cossak Crossed the Danube)
9th - Sammy Thomas (USA) 88.95
(Magnante's Boogie, Rhumba Cubani, Polka Dot Polka, Take 10 & Lover)
10th - Grigory Fainshtein (USA-Belarus) 88.8
(Bulgarian Dances, Light & Shadow, Flick-Flack & Naughty Tunes)

11th - Serge Osokin (Russia) 87.55
(Jumping Joy, I Wish You Love, Shocking Valse, Take 10 & I've Got Rhythm)
12th - Anthony Rolando (USA) 87.5
(Espana Cani, Pasquale, Donkey Serenade, Joyeux Canari, Cumana & Skater's Waltz)
13th - Anthony Falco (USA) 87.25
(Bumble Boogie, Sunshine of My Life, Polka Italiano & Donkey Serenade)
14th - Georgiy Shakhnevich (USA-Ukraine) 87.2
(Waltz Musette, Talking to Monsieur Legrande, Chicken Dance & Moldavian Folk Song)
15th - Brian Hubrich (USA) 85.3
(Rootbeer Rag, The Devil Came Up to Utah, If My Nose Were Runing Money & Variations of a Polka)
16th - Evan Dahl Hawley (USA) 83.8
(Maple Leaf Rag, Bohemian Rhapsody, Enamorado & Hora Staccato)
17th - Peter Martin (USA) 82.55
(April in Paris, Ruby, Just Don't Want to be Lonely & Rainbow Seeker)
18th - Joseph Tirpak (USA) 76
Rain Rain Polka, Stardust, Sweet Georgia Brown/Shanty Town/Bye Bye Blackbird & Julida Polka)
19th - Benjamin Lang (USA) 75.7
(Indifference, Crystal Pearls, Jolly Caballero & Dizzy Fingers)

---
Guinness World Record Broken in Canada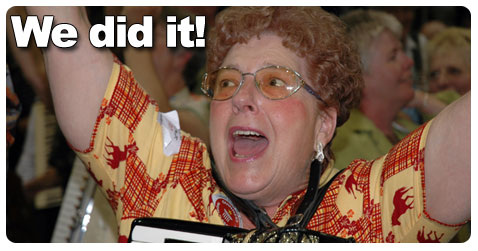 On July 7, 644 accordion players lined up to help break the Guinness book of World Record at the Kimberley Civic Center before a standing room only audience. Helping to break the record were several international accordionists including Bernadette Conlon of Australia, Gary Blair of Scotland, Igor Zavadsky of Ukraine, Janet Todd of USA and Serge Duchane of Canada.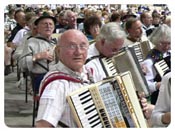 The previous record held for the largest accordion ensemble was organized by the Stedeker Dansers. This consisted of 566 musicians playing the accordion for 22 minutes, during the International Folklore Festival in Diepenheim, The Netherlands, on June 1, 2000. In Kimberley , 644 accordions played for 29 minutes and 30 seconds.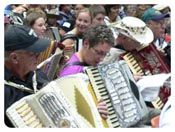 In an interview with Anders Johnson, Jeany Irvin said: "I think a lot of the people who came last year, came this year and brought friends with them, and brought more accordions with the, so we did not have the problem of running out of accordions. Last year we had enough people, and not enough accordions.

For more details and pictures from this exciting event, please visit www.kiotac.ca

---
65th ATG Competition and Festival in Richardson, Texas
Jazz was in the air when the Accordionists and Teachers Guild, International (ATG) held its 65th Annual Competition and Festival in Richardson, Texas (Dallas). Featuring Jazz legends Art Van Damme and Frank Marocco, the festival also featured an International Jazz Competition for Accordion which attracted contestants from the United States and Europe.
The $3,000.00 First Prize in the Art Van Damme International Competition for Jazz Accordion was won by Julien Labro (right) from Detroit, Michigan. Originally from France, Julien is student of World Champion Peter Soave at Wayne State University. The 2nd Prize was won by Peter Martin from California. In addition to the Art Van Damme International Jazz Competition, there was a special International Jazz Competition category honoring Frank Marocco which was won by Jérôme Richard (left) from France.
In addition to Art Van Damme and Frank Marocco, the festival concerts featured artists such as Mirco Patarini (Italy), ATG President Stas Venglevski, Dee Langley, Dr. Karen Fremar, the UMKC Community Accordion Orchestra, Jim Rommel, John Simkus, Gordon Kohl, Sharon Seaton and popular Texas artist Ginny Mac. The 2005 Festival Accordion Orchestra under the direction of Joan C. Sommers performed at several concerts during the festival including the Taste of Musical Excellence Press Concert, an appearance accompanying Frank Marocco and closing the Saturday night Gala concert.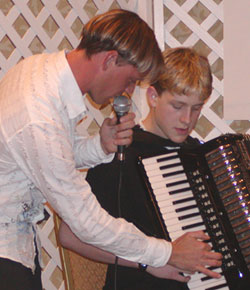 Workshop presenters included Frederic Deschamps (France), Art Van Damme, Frank Marocco, Ginny Mac, Jim Rommel, Dr. Sharon Seaton, Gordon Kohl, Jeff Crilley, Misha Litvin and Dee Langley.
Joan C. Sommers was inducted as the new ATG President at the conclusion of the festival with Dee Langley re-elected First Vice President and Stas Venglevski Second Vice President.
Plans are already underway for the 2006 Festival in Minneapolis, Minnesota which will workshops, displays, concerts and competitions. In 2007 the ATG will join forces with its sister organization and fellow CIA member - the American Accordionists Association (AAA) to co-host the 60th Anniversary Confédération Internationale des Accordeonistes (CIA) Coupe Mondiale World Accordion Championships in the United States.


---
Alexander Sevastian releases New CD
Accordionist Alexander Sevastian has just released a new CD highlighting his extensive concert program. Entitled 'A Midsummer Night's Dream', the CD includes works by Bach, Scarlatti, Schubert, Goubaidulina, Repnikov, Berinski, Derbenko, Kachaturian, Mendelssohn and Rachmaninov.
Born in Belarus and a graduate of the Gnessin Academy of Music in Moscow where he received his Masters in Performance degree studying with renowned concert artist and teacher Friedrich Lips, Alexander now makes his home in Toronto, Canada.
A winner of three International competitions including the 'Oslofjoird' in Norway, the 'Cup of the North' in Russia, and the ATG 'Anthony Galla-Rini International Competition for Classical Accordion' in the USA, Alexander has performed in Belarus, Russia, Canada, Ukraine, Italy, France, Germany and the USA.
In addition to his solo career, since 2002, Alexander has been a member of the Internationally recognized group Quartetto Gelato. He has toured with this group to over a hundred cities in the USA, Canada, Italy, Korea and Japan.
For information, please visit www.accordions.com/sevastian or e-mail: Alexander at: sevastian2004@yahoo.com


---
Tony Lovello to Bellowshake his way into Georgia
Attendees are encouraged to fasten their seatbelts as Tony Lovello bellowshakes his way into Georgia in August. Often dubbed the 'Liberace of the Accordion' Tony is to perform in Atlanta, GA on Saturday, August 27th, 2005 at 7:00 PM as the newly formed Southeast Accordion Association kicks of with its first event.

Formerly of the Three Suns (of Twilight Time & Peg O' My Heart fame), Tony has played for many of the greatest in show business including Frank Sinatra, Debbie Reynolds, Dinah Shore, Milton Berle, Eddie Cantor, Pat Boone, Jimmy Durante, and Roy Clark, to name a few!

Not only is he a superb accordionist, but an exemplary showman, as well. His performance of Malaguena (his signature song), will leave you absolutely breathless and virtually toss you out of your seat! Tony uses a cordless mic system that allows him to move comfortably amongst the crowd, and he keeps a pace that will exhaust everyone in the audience. Tony will have his many recordings for sale, and will be available for autographs.

The concert will take place at: Holiday Inn Atlanta Airport North, 1380 Virginia Ave, Atlanta, GA 30344. There is a free shuttle to & from the airport. The official program is as follows:

Dealer display by John Gaunt, Accordions & Keyboards
(accordions & accessories)
Open mike - anyone can play - 2:30 PM
Dinner 5 PM
Tony Lovello in Concert at 7.00 PM
SEATING IS LIMITED - ADVANCED REGISTRATION IS REQUIRED BY AUGUST 5, 2005.

For registration and/or hotel info, contact SEACCASSOC@bellsouth.net or call (850) 936-8722

---
Those Darn Accordions Midwest Tour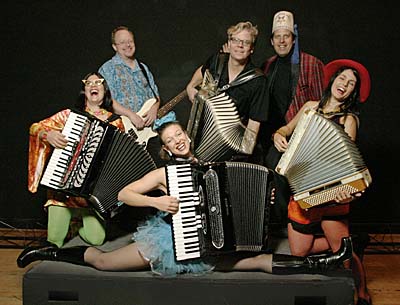 Those Darn Accordions return to beer-and-sausage country for a sizzling summer Midwest mini-tour featuring intimate shows at select clubs as well as big-stage appearances at several music festivals.

No matter the venue, America's favorite rock 'n' roll accordion band will deliver the humor-filled pop and rock (and country and New Orleans soul and, well you name it, really), that flows so freely from chief songwriter and lead squeezeboxer Paul Rogers' jumpy brain.

"It's all about the songs, and the songs are all about the laughs," Rogers says. "The accordion just happens to be the tool of our trade." Backing frontman Rogers are three singing, dancing and bellows-pumping babes -- Carri Abrahms, Susie Davis and Suzanne Garramone -- and TDA's hard-hitting rhythm section.

Dates include:
Thursday, June 23 -- Cedar Cultural Center, Minneapolis, Minn.
Friday, June 24 -- Black Horse Bar and Restaurant, Winona, Minn.
Saturday, June 25 -- Downers Grove Heritage Festival, Downers Grove, Ill.
Sunday, June 26 -- Gabe's Oasis, Iowa City, Iowa
Monday, June 27 -- High Noon Saloon, Madison, Wis.
Wednesday, June 29 -- Clark Place, Stevens Point, Wis.
Thursday, June 30 -- Waterfest, Oshkosh, Wis.
Friday, July 1 -- Shank Hall, Milwaukee, Wis.
Friday, Aug. 5 -- FitzGerald's, Berwyn, Ill.
Sunday, Aug. 7 -- Decatur Celebration, Decatur, Ill.
For press photos and more information, please visit http://www.thosedarnaccordions.com or conatct: tdapublicity@yahoo.com


---
15th Annual Cotati Accordion Festival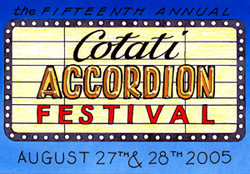 The 15th Annual Cotati Accordion Festival featuring Queen Ida and Flaco Jimenez will take place from August 27-28th, 2005. This two day event held at La Plaza Park in downtown Cotati, California is the largest West Coast accordion festival with 2 stages, 13 performers each day, an all day polka tent for dancing, and an all day zydeco dance party.

This nonprofit event has contributed over $150,000 to local organizations benefiting children and draws more than 5,000 people every year from all over the world.

Every performance by Queen Ida and the Bon Temps Zydeco Band is a celebration! Everywhere she has taken her music, from Carnegie Hall to Tokyo, from Dakar to Lake Woebegone or from "Saturday Night Live" to "Austin City Limits," people respond. They clap, they sing, they get moving and dancing, and they come back for more. Queen Ida's audience is always diverse--young and old, Prairie Home Companion types, intellectual rock fans, members of the Cajun/Creole community, womens' music fans and folk music enthusiasts. They come for Zydeco music and wind up spellbound by Ida's exuberance.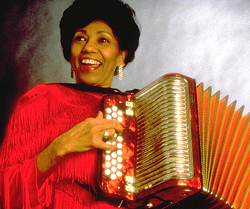 Featured artist Queen Ida was born in Lake Charles, Louisiana where French patois was the dominant language. She grew up hearing the French lullabies, Mardi Gras songs, and the waltzes and two steps at the Saturday night Fai do dos. Ida's family were hard-working rice farmers. As a child, Ida helped cook for thirty or forty people, and later she often drove a tractor during the planting season. In the evening there was always someone with an accordion or a fiddle accompanied by a rub board, harmonica or triangle player. Homemade music was a major form of recreation and on the weekends there were usually several Zydeco dances to chose from.

In the mid 1940's Ida moved to San Francisco with her family along with thousands of other Louisiana folks who felt an eight-hour shift in the shipyards beat a fifteen-hour day on the farm. Like the European immigrants who came to New York, they learned English and prospered, but they held onto many of their traditions, especially their Cajun/Creole language, music and food.

Raising her three children and driving a school bus was a full-time career for Ida until the mid 1970's. Then as her children grew up, she pulled her accordion out of the closet and began to sit in with her brother Al Rapone's band at a few of the French dances in San Francisco's Creole community. At one such event, where Ida was the Queen of the Mardi Gras, a reporter for the San Francisco Chronicle dubbed her "Queen Ida." The name stuck, and Ida's career was launched.

Her initial touring success was in Europe, but when she won a Grammy Award in 1983 for her "On Tour" album, she soon began to spend about 200 nights a year on the road in the US and Canada. Always a family enterprise, the Queen Ida Band has featured two of her brothers, Al Rapone and Willie Lewis from time to time, and her younger son Ronald sitting in on rub board occasionally. Her husband, Ray, is the road manager, and her daughter Ledra helps with the administrative chores.

With the addition of her older son, Myrick "Freeze" Guillory, to the group, Ida not only can wail on some blazing mother-son dueling accordion pieces, but she can occasionally put down the squeeze box altogether and show off on the rub board. Myrick's strong vocals, song writing ability and great accordion work are prominently featured on Ida's current album.

Queen Ida's audience is growing by leaps and bounds. Every year brings new opportunities for her in film, television and on the concert stage. Most remarkable of all however, is that despite her main stream acceptance, Ida is still sought after in the Creole community. This was dramatically demonstrated in January of 1989 when the band sold out a French dance at Verbum Dei School near Watts one night and played to a capacity crowd in Royce Hall at UCLA the next. Queen Ida has remained true to her roots while creating a high energy show with immense popular appeal. Queen Ida will perform at 6:40 PM on Saturday August 27th, 2005.

Tickets are $17.00 for a one day pass ($15.00 if purchased in advance) or $25.00 for a two day pass. For more information please visit www.cotatifest.com or contact: Ruth Peckham rpeckham@sonic.net


---
New Release by Ralph Stricker
Ralph Stricker has just released the second edition of his popular book "Jazz Theory and Improvisation Studies for Accordion". The new edition has been rewritten and re-engraved and has been expanded to 164 pages of valuable material. The book contains many wonderful ideas covering the full spectrum of jazz; the book also features special arrangements and compositions by Frank Marocco and Eddie Montiero.
The book is available from the following sources:
www.janpress.freeservers.com
www.accordions.com/deffnermusic
www.mainsqueeze-nyc.com

Although the main focus of the book is jazz, this book is a worthwhile addition to any accordionists library. Price is $32.95


---
Accordionists Perform in Circus Spectacular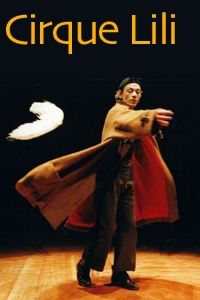 Accordionists Guy Klucevsek and Jean-Francois Baez will perform in 'Cirque Lili' at the Barclay Theatre in Irvine, California, July 1st to 27t. 'Cirque Lili' features French circus artiste, Jerome Thomas, with a commissioned score composed by Klucevsek.

The advance publicity reveals that: "Two virtuoso jazz accordionists provide live musical accompaniment and create a magical atmosphere throughout the performance".

This extraordinary theatre piece has been performed over 200 times throughout Europe since 2001, always with live music, and will be making its North American premiere at the Barclay.

For further information e-mail gklucevsek@si.rr.com

---
New Music Book and CD
Accordionist Mario Tacca has just published a book titled 'Mario Tacca - Original Compositions for Accordion, Solos and Duets'. Each of the 10 pieces in the book reflects a distinct musical style and ethnic background.

The book also comes with a CD of Mario playing each of the works; in addition he has recorded separate tracks for the second accordion in the four duet pieces in order to provide the player with the duet accompaniment.

For further information e-mail mario.tacca@gioiaprod.com

---
Bernadette Conlon in the USA
Bernadette Conlon, Australia's Ambassador of the Accordion, performed her first concert on a five-stop US and Canadian tour to several standing ovations, and encore-demanding, cheering audience at the Salt Lake Area Accordion Club Tuesday June 21.

Beginning with her rendition of Bach's Toccata in D, which she calls Hot Toccata, Bernadette worked her way through a variety of selections from her eight CDs during the first set. Following a 10-minute intermission during which time Bernadette was autographing her CDs for enthusiastic new fans, she returned to the stage for a second set of audience requests. She played everything from Poet and Peasant Overture to Ukranian melodies to Flight of the Bumble Bee to Beer Barrel Polka, before ending with a stunning encore of Czardas.

Jay Todd, Salt Lake Area Accordion Club president, said after the cheering 117 attendees quieted, "You are a legend in your beloved Melbourne. Now you can claim Salt Lake City as your second home!

Enthusiasts hung around for nearly an hour as they acquired her CDs and waited for autographs from the "Pride of Australia."

"We've had a number of prominent American accordionists perform for our club, but none has captured our audiences as did Bernadette with her skills, aesthetic interpretations, and masterful performing."

The Salt Lake Area Accordion Club, founded by Jay and Janet Todd, Janet herself being an accordionist of national repute in the US, is in its third year but already is one of the strong accordion clubs in America.

Arriving in Salt Lake City Sunday evening, June 19, Bernadette and her mother, Lynn [I don't know the correct spelling, it could be Lynne or some other variation] flew to Seattle, Washington Wednesday where they motored to Leavenworth for the Leavenworth Accordion Festival. Following that stop, Bernadette will fly to Las Vegas, Nevada to perform at the Las Vegas International Accordion Convention, then fly to Victoria, Canada to perform at an accordion club concert there, with a tour-ending performance of their 23-day journey at Kimberley, British Columbia for the Kimberley Old Time Accordion Championships.


---
Accordions at O'Flaherty Irish Music Retreat
If you love Irish music and want to learn to play it or play it better, we invite you to spend an enjoyable, but productive, weekend with some of the best traditional players you'll find anywhere. People like Mark Kenneth teaching piano accordion, Ken Fleming teaching diatonic classes Liz Carroll on fiddle, John Doyle on guitar, Jerry O'Sullivan on uilleann pipes, Roger Landes on bouzouki and three dozen other teachers from around our region on nearly every instrument Irish music can be played on.

We would LOVE you to join in - this will be a lot of fun, and will focus not only on the fast jigs and reels, but also more attainable pieces for the more novice players amongst us!!!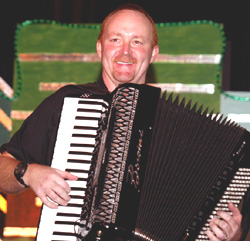 Born and raised in Scotland, Mark was first exposed to the accordion at age four when he refused to leave the band alone at a cousin's wedding. To stop him from climbing inside the case and going with the band, his folks placated him with promises of an accordion when he "got bigger"...he did. He was "classically trained" from an early age, completed his practical and theory exams with the British College of Accordionists and competed regularly in both All-Scotland and All-Britain championships, winning many competitions over the years, including All-Scotland Under 18 titles and All-Britain Classical Duet. He started playing in Scottish dance bands when he was around 14 years old, and began at that time to make regular appearances on stage with touring Scottish shows both in the UK and overseas. After leaving Scotland in the late 90s, he has lived in Europe, the Middle East, and the Far East before moving to the USA, his trusty box always in tow. He finally made his way to Texas for a brief stint in Houston, before moving to Dallas and now performing with Jiggernaut." http://www.jiggernaut.com .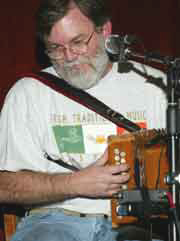 Ken has played traditional Irish music for 30 years on a number of instruments including guitar, bouzouki, tenor banjo, mandolin, tinwhistle, button accordion and Anglo concertina. Ken and his wife Peggy are cofounders of the Southwest Celtic Music Association and the North Texas Irish Festival of which Ken was their first president and festival director respectively. He has organized Irish ceilis and hosted music sessions in the Dallas area and recently produced "Across the Pond," an Irish music and dance production for the Chautauqua Assembly program in Waxahachie, Texas. He was also a member of Tinker's Dam, Waifs & Strays, Loose Change and is a current member of Jigsaw and the Lone Star Ceili Band. He is the founder and president of the Traditional Irish Music Education Society (TIMES) and the founder and director of the O'Flaherty Irish Music Retreat.

Please visit the retreat's website at http://www.irishtradmusic.org/oflaherty.htm. The retreat will be held October 29-30, 2005 in Midlothian, Texas, just 30 minutes south of Dallas,
at a comfortable camp and conference center there.
For more information, please contact the Retreat at (972) 238-8724 or e-mail its organizers at retreat@irishtradmusic.org

---
11th Master Class and Concert Series
On August 26th, 27th and 28th Dr. William Schimmel will present his annual master class and concert series sponsored by the American Accordionists' Association. This year's title will be: 'At Least You Can Get Your Eats'.

It will take place at the Tenri Cultural Institute of New York - 43A West 13th St, Manhattan. The master classes will take place at 3.00 PM and the concerts at 7.00 PM.

For details, please visit: www.ameraccord.com or e-mail: billschimmel@billschimmel.com


---
Henry Doktorski Releases Classical Accordion CD
American concert accordionist Henry Doktorski's latest recordings have been released as a compact disc titled Classical Accordion Recital, which includes transcriptions and original works written for the accordion. The CD presents stylistically diverse transcriptions and original works for accordion spanning a historical time frame from the mid-eighteenth to the twenty-first centuries.

Many tracks were recorded by WQED-FM at the Welker Room in the Laughlin Music Center at Chatham College in Pittsburgh and were broadcast on radio. Other tracks were recorded at the recital hall of Duquesne University's School of Music. No double-tracking was used while recording this album: all selections were played in real-time with a converter/free-bass accordion. The 65-minute CD program includes:
Johann Sebastian Bach: Partita No. 1 in Bb
Praeludium, Sarabande, Menuet
George F. Handel: Suite for a Musical Clock
Prelude, Air, Voluntary on a Flight of Angels, Bells, Minuet, Gigue
Robert Schumann: Träumerei (from Kinderscenen)
Johannes Brahms: Hungarian Dance No. 5
Émile Waldteufel: Dolores Waltz
Louis F. Muir: Waiting for the Robert E. Lee
Béla Bartók: Rumainian Folk Dances
Joc cu bâtâ, Brâul, Poarga Româneasca, Maruntel
George Gershwin: Three Preludes
Allegro ben ritmato e deciso, Andante con moto e poco rubato, Allegro Ben ritmato e deciso
Alan Hovhaness: Suite for Accordion
Solene, Presto, Allegro Vivo
William Grant Still: Lilt
Stanley and David Darrow: Meteor Shower
Willard A. Palmer: Chorale on "Old Hundredth"
Astor Piazzolla: Oblivion
Alan Hovhaness: Hymn (written for Henry Doktorski)
Henry Doktorski: Rondo Polska
Order from Henry Doktorski at http://henrydoktorski.com
---
Stas Venglevski's Tango Ensemble Concert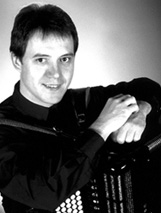 It is never to early to pencil in a concert date for the fall, and anyone passing through Wisconsin in November, might like to set aside November 12 for the Sizzling CLASSIC TANGO with THE STAS VENGLEVSKI INTERNATIONAL TANGO ENSEMBLE and Vocalist Laura Crotte. The concert will take place at 8:00 PM on Saturday November 12, 2005 at the Cedarburg Cultural Center in Cedarburg, WI.

A versatile musician, in addition to the Tango Ensemble, Stas performs as a soloist, duo artist as well as with many other musicians.

Stas' repertoire includes his original compositions, a broad range of classical, contemporary and ethnic music. He has toured extensively as a soloist throughout the former Soviet Union, Canada, Europe, and the United States including numerous performances with Doc Severinsen, Steve Allen and with Garrison Keillor on the Prairie Home Companion Show. Additionally, he has performed with symphony orchestras throughout the United States.

He performed the world premiere of Concerto No. 2 by Anthony Galla-Rini and also the world premiere of Bayan and Beyond, composed for Stas by Dan Lawitts. He is a regular participant of the Milwaukee Symphony Orchestra's Arts in Community Education Program (ACE); has done television commercials and performed in theater productions; produced numerous recordings including transcription of Tchaikovsky's Nutcracker Suite for bayan as well as one of original compositions. He has published several books of original compositions.

Stas's Tango Ensemble concert will take place at the Cedarburg Cultural Center which is located at W62 N546 Washington Avenue, Cedarburg, WI 53012.

For reservations and information please contact: CCC Office Phone: 262-375-3676, CCC Office E-Mail: cccenter_sarah@ameritech.net Home Office E-mail: halltucker@execpc.com, Web Site: www.cedarburgculturalcenter.org

---
New Books Released by Stas Venglevski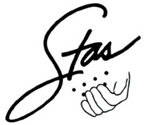 Milwaukee based accordionist Stas Venglevski has just released five books of his original compositions including both solos and duets.
Book 1 - Romantic Solos
Book 2 - Illusions Duets
Book 3 - Seasons Solo
Book 4 - Seasons Duets
Book 5 - Rainbow Reflections (with CD)
A two-time first prize winner of bayan competition in the Republic of Moldova, Stas is a graduate of the Russian Academy of Music in Moscow where he received his Masters Degree in Music under the tutelage of the famed Russian bayanist, Friedrich Lips. In 1992 he immigrated to the United States and now makes his home in Milwaukee.

For information on ordering the books, please visit www.accordions.com/stas







---
Verne Meisner Passes Away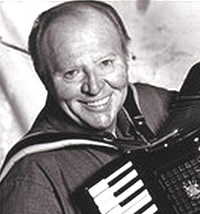 Verne Meisner, 66, whose accordion-propelled polka tunes kept the upper Midwest dancing for 57 years and who won international accolades for his musical skill, died June 10 of cancer at St. Luke's Hospital in Milwaukee.
Mr. Meisner was considered one of the greats in the world of polka, second only to Frankie Yankovic, who gave him his first big break. His Slovenian, or Cleveland-style, polka featured infectious melodies that were widely popular in the world of taverns, dance halls and festivals where the music was a standard celebration of the week's end.
Verne Meisner of Milwaukee started his career as an accordion player as a child and played other genres as well as polkas. He also wrote more than 60 songs.
"He set the tone and groundwork for a lot of other musicians and bands. He was a major influence," said Rick Gundrum, vice president of the Wisconsin Polka Hall of Fame.
Mr. Meisner, an inductee into five polka halls of fame, played at the Smithsonian Folklife Festival in 1998 and was featured on a Smithsonian Folkways recording, "Deep Polka: Dance Music from the Midwest."
Polka is the go-go music of Wisconsin. It's the official state dance, it's a staple of the state fair and lakefront summer festivals and it's what the band strikes up at weddings. Mr. Meisner, born in Milwaukee, the axis of oompah, grew up with the sound.
When he picked up an accordion at age 8, he began playing for neighbors, ice cream socials and church events. He knew only 10 tunes and would run through them over and over until he learned more, he once told the publication Polka News.
His son Steve, who followed him into polka music, recalled: "He had a photographic memory. He could remember people's names from 20 years ago and play a song for them. They'd be falling over him. He was always able to get people dancing even if they weren't a dancing crowd."
Mr. Meisner started his own band in 1950, at age 11. Five years later, he so impressed the "King of Polka" Yankovic that he briefly traveled with the Yankovic band. He also benefited from airtime on the local "Fritz the Plumber" radio show.
After high school, Mr. Meisner's National Guard unit was activated and he found himself in Tacoma, Wash. His after-hours gigs at the officers club and nightspots became so popular that the musicians union began to complain.
Back in Wisconsin, wielding a Milwaukee-made black Baldoni accordion, Mr. Meisner played 200 to 250 dates a year for more than 40 years. His engagements included stands at clubs in Branson, Mo., Las Vegas casinos and Caribbean cruise ships and several European tours.
He made 30 singles, 20 CDs or LPs and five videos, as well as writing more than 60 songs. Over his career, he sold about a million recordings, his son said. His biggest hits were "Memories of Vienna" and "El Rio Drive."
He also could play country, jazz and standards, and musicians of all genres often sat in with his band.
"He was very versatile and recorded in Nashville using studio musicians," Gundrum said. "Some polka musicians will do a country song but it still sounds like a polka. Verne was one of the few that could pull it off and make it sound like a country song or a jazz song."
That ability to play across genres kept him working. For 14 years, he played 90 days in a row at a Wisconsin resort and averaged only two or three polkas each night.
Early in his life, when the polka scene was more competitive, Mr. Meisner struggled with his lack of recognition. He was an alcoholic but quit drinking 20 years ago, coinciding with the period in which he received his greatest professional recognition.
"He was a person who made people happy," Steve Meisner said. "I don't think he would have chosen any other form of music because they weren't always expressions of happiness. Other than some good old sad country songs, he never wanted to play the sad songs."
He played his last date April 7 at the American Serb Hall in Milwaukee. The audience didn't expect him to appear, but "people were overjoyed to see him. When he did show up, people were just elated," Steve Meisner said.
Survivors include three children, a brother and sister, all of Wisconsin.

---
---
Note: In order to provide as much information as possible for the United States National Accordion News stories, many different sources are often researched to gather additional information and pictures to complement what has been submitted. This information is then correlated to provide the news on www.accordionusa.com in the spirit of which it is intended, which is to provide a free news service to the Accordion Community, specifically in the United Sates. If you feel any copyright has been violated please advise www.accordionusa.com and the article will be removed immediately.