Accordion Wedding
The well known duo of concert accordionists Joanna Arnold and Stanley Darrow will marry on June 6th, 2002.

Joanna Arnold and Stanley Darrow have been a duo team since 1971. Their first performance was at the American Accordion Musicological Society Symposium #1.

Since that time they have been dedicated to serious performances of the accordion through a vast and diversified repertoire. Their repertoire includes music of the early Coptek Church, Renaissance Periods, Bach, Handel, Mozart, Boellman, Widor, Schoenberg, Cage, Riley, etc... In addition they place a strong emphasis on original accordion duo music, featuring the music of Dr. Edwin Avril and Dr. William Schimmel. The duo also includes ethnic music from many nations in their programs.

One of the duos prime performance mediums is the School Systems in both the USA and European countries, presenting programs entitled, "A Trip Through Time". This program is presented to students in grades K through 12 and educates students on the history of the accordion in relation to world history. While on their annual concert tours, the duo performs for Accordion Clubs, Community Concert Series, Television and Radio Broadcasts.

Joanna and Stanley will celebrate their wedding at a private ceremony at 1:00 PM on June 6th, where the service will be conducted by popular Jazz accordionist Monseigneur Stanley Kloskowski.

Well wishes may be sent to the couple at:
Stanley Darrow
322 Haddon Ave
Westmont, NJ 08108
USA

Accordion Kings Festival in Houston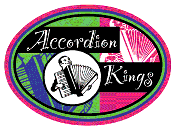 The squeezebox rules at Texas Folklife Resources' 13th annual Accordion Kings Festival, June 13-15 at 7:30 PM each evening at Miller Outdoor Theater in Hermann Park.

Accordion Kings is based on the premise that the multicultural accordion musics of Texas including Cajun, conjunto, zydeco, Czech Polka are the most popular, non-commercial live musics in the state.

They express authentic ethnic traditions that have grown out of centuries of cultural heritage in the Czech, Mexican American and French-speaking Cajun and Creole communities of Texas. And what more appropriate city than Houston in which all of these styles of music are performed for enthusiastic dancers on almost any given weekend.

Thursday's lineup kicks off with the sweet sounds of accordionist Joel Guzman with Sarah Fox and Max Baca masterfully playing a mix of Mexican roots music. Following the trio is the in-demand Gulf Coast Playboys from Austin led by accordion chameleon Bradley Williams. Finishing the evening will be 18-year old Cedryl Ballou and the Zydeco Trandsetters from Waco. Ballou is heir to the great Zydeco tradition from his step-grandfather Rockin' Sydney and his grandfather guitarist Classie Ballou.

Friday begins with true blue Cajun music exponents Touch of Cajun from down the road in Beaumont. "Squeezed" in the middle of the evening is Grammy-nominated, National Heritage Award-winner Santiago Jimenez. Jr. y su Conjunto. And for the first time in Accordion Kings history, a Czech polka band will headline the evening. The big, brass sound of Kovanda's Czech band will blast out their irresistible polka tunes and have even Zydeco and conjunto fans storming the dancefloor.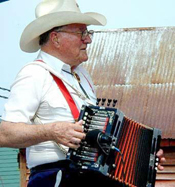 Saturday opens with hardworking, Zydeco traditionalists Wilfred Chevis and the Texas Zydeco Band straight out of Houston. The Grammy-nominated Hackberry Ramblers will
delight the audience with their toe-tapping blend of Cajun, western swing and Gulf Coast "swamp pop." (Pictured from the Hackberry Ramblers is 90 year old accordionist Edwin Duhon)

And Texas' own conjunto treasure, the "dancing cowboy", Mingo Saldivar y los Tremendos Cuatro Espadas will end the evening in his classic flashy style.

Accordion Kings is produced by Texas Folklife Resources and is sponsored in part by the City of Houston through the Miller Theater Advisory Board. Also, funding is provided from Texas Commission on the Arts. For more information of Texas Folklife Resources, please call Dawn Orsak at (512) 441-9255 or visit www.main.org/tfr

Don Lipovac in Concert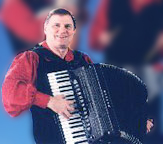 Popular Midwest accordionist Don Lipovac will be performing at the Sugar Creek Slavic Festival on June 7, 2002.

Of Slovenian heritage, Don started his musical career at the age of four, playing Slovenian melodies on a button-box accordion bought by his grandfather. He began piano accordion lessons with Alfred Vacca, who trained him thoroughly in the classics.

In 1958, Don won the nation's top accordion honor - first place in the American Accordion Association National Championship contest. Don went on to represent the United States at the world competition in Brussels, Belgium. He attended the Kansas City Conservatory of Music and has degrees in both music theory and music education.

Don has appeared on the Lawrence Welk Television show and as soloist with the Kansas City Philharmonic Orchestra. He has also been the Director of the St. John Tamburitzans for more than 35 years. He has the unique distinction of having been inducted into both the Tamburitza Association of American Hall of Fame, for outstanding contributions toward the preservation of Tamburitza music; and the Polka Hall of Fame, awarded at Ironworld, USA, in Chisholm, Minnesota.

The Don Lipovac Orchestra joins local polka-legends Brian McCarty and Ed Grisnik at the 17th Annual Sugar Creek Slavic Festival located in Sugar Creek, Missouri (11520 E. Putnam). For further information, please contact Mark O'Renick at mark@uncommonsense.com or 816/842-6996 or visit www.slavicfest.com. Admission is $3.00 adults, children free (12 and under).

Accordion Recital in Pittsburgh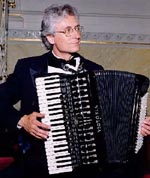 American concert accordionist Henry Doktorski will perform in recital on June 4, 2002 at the 143rd bi-annual meeting of the "Acoustical Society of America" to be held at the downtown Hilton Hotel in Pittsburgh, Pennsylvania at 5 PM. The theme of the conference will be "Free Reed Instruments: Historical Perspective and Recent Research."

Doktorski will perform pieces intended to expose the conference participants to a wide range of historical repertoire for the accordion - ranging from early 20th-century compositions by Hugo Herrmann and Guido Deiro to more recent works by Astor Piazzolla - to showcase the varied acoustical properties of the instrument.

Doktorski will also share the stage with another conference recitalist, mouth organist Howard Levy. The recital will conclude with a duet played by the accordion/harmonica team: "Bach's Polka from Cantata 78."

For more information, see http://asa.aip.org

Argentine Tango Nights
Kansas City based accordionist Lidia Kaminska and guitarist Beau Bledsoe perform Argentine Tango, songs from the bordellos of Buenos Aires, dance music from the salons of the 1930's, and the concert music of Astor Piazzolla.

The performances are scheduled at the Cafe Sebastienne located at the Kemper Museum of Contemporary Art Saturdays, 7:00 PM - 9:30 PM, 4420 Warwick, Kansas City, Missouri. For further information, please contact (816) 561-7740

Annual Ennis Polka Festival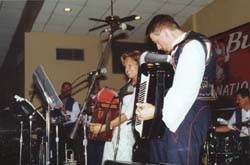 The 36th annual Ennis Polka Festival was held Memorial weekend at Ennis, Texas. Activities included a dance contest, parade, arts and crafts and food booths, street dancing bands performing at four different halls as well as authentic Czech food. This years performers included Steve Holy, Brave Combo and the Jodie Mikula Orchestra.

A celebration of Czech heritage which began back in 1966, the festival now draws more than 50,000 attendees. Including religious customs, folk dances, tastes, sights, and sounds to create "a little bit of Czechoslovakia" on the streets of historic downtown Ennis.

For more info on this annual festival, contact cpbox@aol.com or contact the Ennis Chamber of Commerce.

13th Annual Galla-Rini Camp in San Diego, CA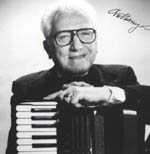 Maestro Anthony Galla-Rini will host his 13th annual music camp in San Diego CA from Sunday July 21 to Friday July 26, 2002. It will be held on the campus of the University of San Diego.

This is an opportunity to meet with the Maestro and mingle with many other talented musicians. Participants came from as far away as France and Austria just to be part of this unique event. It is five days of being under the baton of the Maestro as he teaches achieving better techniques for the accordion.

If you have never been part of a large ensemble, you are in for the thrill of a lifetime. The Maestro has arranged his selection for between six and thirteen parts. There is much hands-on playing time, combined with musical tutorials and hearing anecdotes from the Maestro's store of wonderful memories.

For more details contact
Friends of Galla-Rini
Kjell Holmes
4779 Cather Ave.
San Diego, CA 92122
Phone 858-453-5486

New York City World Premiere
"For over 20 years, Yale Strom has been at the forefront of the klezmer revival as a performer and bandleader" "A Klezmer Supergroup." Billed as one of the world's leading authorities on Jewish music, composer/musician/ethnomusicologist, he reaches into the musical traditions of Romania and the Balkans to explore their influence on Sephardic and klezmer musics.


June 9th will see the New York City 'World Premiere' of "NEXUS", a concerto for 2 accordions and percussion composed by Yale Strom that illuminates Strom's Turkish-Romanian connection to Jewish Music. The 11 minute work features Ismail Butera (pictured left) and Peter Stan, accordionists, and Raquy Danziger - percussionist.

The premiere will take place at the Sephardic House, The Center for Jewish History at 7 PM, located at 15 West 16th St. (between 5th and 6th Aves. ) For tickets and further information: 917-606-8200 or e-mail boxoffice@cjh.org

The Heart of the Andes CD by Guy Klucevsek
New Solo Recording - USA Composer/accordionist Guy Klucevsek has just released a new solo recording entitled "The Heart of the Andes" on the Winter & Winter label.

The CD consists primarily of Klucevsek's own compositions, including the title track (a 14-minute suite), plus pieces by Shostakovich, Dave Douglas and Phillip Johnston.

For further details e-mail: Guysqueeze@aol.com

Fiddler on the Roof
American concert accordionist Henry Doktorski will perform with the Civic Light Opera Orchestra of Pittsburgh, Pennsylvania, in 15 performances of "Fiddler on the Roof" from June 18 to 30, 2002.

The award-winning musical, based on the book by Joseph Stein with music by Jerry Bock and lyrics by Sheldon Harnick, captures the colorful story of one Jewish father's struggle to hold on to his family's traditions amidst the rebellious antics of his three independent daughters and the turmoil of an ever- changing world.

The score includes such classics as: "If I Were a Rich Man," "Sunrise, Sunset," "Matchmaker, Matchmaker" and Tradition." All performances will take place at the Benedum Center for the Performing Arts in Pittsburgh's downtown cultural district, which boasts of the third largest stage in the United States.

For more information, see the Civic Light Opera website at http://www.pittsburghclo.org

Showstoppers in Concert in New Hampshire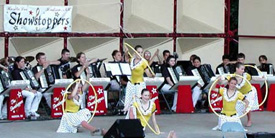 The 45 member Showstoppers Accordion Orchestra & Dancers will present "Salute to America". The group was formed in 1970 and the members range in age from 12 years to 21 years old. They are students of the Rosita Lee Music and Dance Centers in Hudson, New Hampshire.

Their program will consist of a variety of song and dance routines. Audience participation is included and their program is family entertainment. The orchestra is under the direction of Rosita Lee and the dancers are under the direction of Shelly Latulipe-Klimas.

The concert will be held Friday June 21 at Greeley Park, Concord Street, Nashua, New Hampshire. Please bring chairs for lawn seating concert venue. For further information, please contact Roger LaTulippe 603/882-894 or e-mail: roger@rositalee.com

New CD by Henry Doktorski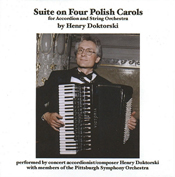 American concert accordionist Henry Doktorski has released a new compact disc single: Suite on Four Polish Carols. This short compact disc single consists of a new and revised version of Doktorski's charming composition for free-bass accordion and string orchestra, Suite on Four Polish Carols, which originally appeared on his popular Classical Christmas CD.

To increase the beauty and balance of the suite, he added new and substantial accordion parts to Lulajze jezuniu and Dzisiaj w Betlejem in this new version with string players from the Pittsburgh Symphony Orchestra. Music critic George Exoo, wrote, "These lucid pieces evoke images of romantic nineteenth-century Warsaw: cobblestone streets, horses and wagons, candlelight, and siedem potraw - the traditional Polish Christmas eve dinner - as well as the simple joys of family Christmases in rural homes.

Doktorski wrote this suite in tribute to his Polish heritage and as a Christmas gift to his father and mother, who, he admitted, 'sometimes had to use firm measures to make me practice the accordion when I was a little boy.'" Doktorski wrote, "If you enjoyed my original Suite on Four Polish Carols, you will LOVE this new version which features the accordion more prominently."

The four carols include:
Przybiezeli do Betlejem
Lulajze jezuniu
Dzisiaj w Betlejem
Gdy Sie Chrystus Rodzi

For more information, contact webmaster@henrydoktorski.com

June is Accordion Awareness Month
June is National Accordion Awareness Month. National Accordion Awareness Month was established in 1989 to promote the accordion, help spread the word about the resurgence in popularity in the accordion and to educate people about the accordion. WOW! It's been 13 years! Did you know...
The piano accordion is the official musical instrument of the city of San Francisco and has been since 1990. This year is the 12th anniversary!
Actress Lucy Liu plays the accordion
The accordion is a member of the reed family, not the keyboard family.
The first United States-made piano accordion (the ones with the keys on it) was manufactured in San Francisco back in 1907. It was at the Guerrini Accordion Company on DuPont St. (Grant Ave., near Columbus Ave.)
When people think of an accordion, they usually envision that large, black monstrosity with piano keys on one side and about a thousand buttons on the other side. However, the accordion family also includes Cajun button boxes, chromatic and diatonic button accordions, the concertina, the bayan, and the bandoneon.
Isn't the accordion just being used at weddings and Bar Mitzvahs? Heck no! Shania Twain's immensely popular Come On Over CD has accordion on a couple of tracks. Los Lobos. Bruce Hornsby plays the accordion and uses it in shows. Counting Crows use accordion a lot. Here in San Francisco, the show Forever Tango was a huge hit and featured two bandoneonists.
China is the largest manufacturer and exporter of accordions in the world.
Each June RootsWorld puts on an online free-reed music festival featuring accordion music from all over the world.

To help celebrate, there will be a special "Day of the Accordion" in San Francisco. This fun-filled Fathers' Day event is scheduled for Sunday, June 16 from Noon-5:00 p.m. at the historic Cannery at Fisherman's Wharf in San Francisco.

Lots of music and lots of fun. Best of all, it's free!

For more information about National Accordion Awareness Month,
please call us at 415 440-0800 or visit online at www.ladyofspain.com

Annual RootsWorld Free Reed Festival
Each year Cliff Furnald produces a festival as a way of focusing attention not on the machinery of music, but on the artists from around the world who use the machines.

From Cliff.....I suppose I could just as easily have chosen the hurdy-gurdy, the recorder or the basson, but the accordion just seems so right."

The accordion acts as an interesting focal point, because although it is a rather new instrument (patented in the 1820's), it is a part of the "tradition" in many parts of the world. Few people think of Irish, Scandinavian or klezmer music without thinking of the accordion as a vital part of the music even though all of these regions have histories that extend back well before the instrument was concocted. And because of its ubiquitous nature, it is now an essential part of jazz, folk and dance music, and even the avant garde has embraced it for its unique qualities.

So what can you expect at an online, virtual "festival" of the accordion? In some ways, much the same as what you would encounter at any music festival, and perhaps a lot more. Yes, the "live" edge is a bit different, because the web exists everywhere and nowhere, in and out of time.

Perhaps it is better compared to an art festival, where the artists' work is on display, and you can wander through the festival site and pick and choose where to linger, what to listen to, who to find out more about. The festival will feature individual songs from almost 100 artists over the course of the month, including material recorded especially for the festival by artists from all over the world.

We are also expecting "live" recordings of full performances, anywhere from 15 minutes to a full hour, recorded for an audience or just sitting around in the kitchen with friends. There will also be print interviews, recording reviews and a jukebox full of music that comes from so many directions you are liable to get lost, stumbling over a Finnish master as you seek out a familiar Irish accordionist.

This is my biggest hope, that even though you may have come here for a dose of the Cajun music you love, we might guide you to one of the great Swedish melodeon or English concertina players and give you a chance to find a new passion. Mostly,

I hope you will be surprised, by the wide range of music the accordion world (and therefore, the whole world) has to offer, from the challenging improvisations on a Finnish chromatic accordion to the unexpected harmonica music of Ireland and Africa.

Don't be afraid to go into an unexpected doorway and see what's going on in there!
please drop in at www.rootsworld.com
Auditions for US Air Force Band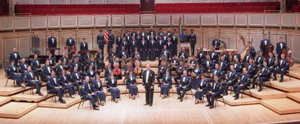 The United States Air Force Band in Washington DC will hold auditions for the accordion position with the AF Strolling Strings on June 13th at Bolling AF Base, Washington, DC. as their current accordionist Bill Popp is retiring from the position.

Applicants must be aged between 17 and 35. There is a four year minimum enlistment, and a federal presidential security clearance will be required. The position offers full military benefits, 30 days paid vacation and the salary range is $36,703 - $41,863.

For details e-mail: audition@bolling.af.mil or call (202) 404-3477.

Empty World Premiere
On June 4th, Dr Schimmel will premiere his own new work "Empty World" for accordion and chamber orchestra at Christ and St. Steven's Church in New York, Manhattan. It was commissioned by and will be performed by the "North South Consonance" Chamber Orchestra (conducted by Max Lifchitz).

Dr. Schimmel also performed on the pre-recorded soundtrack to the play "Ten Unknowns" by John Robin Baitz. The play will run at the Huntington Playhouse in Boston Massachusetts from May 18th to June 18th. The music is composed by Rick Baitz, brother of the playwrite.

For further details e-mail: GWILLIAMANDMICKI@aol.com

New Mile-Hi Accordion Festival in Denver
Accordionists will gather from August 16-18, 2002 in Denver CO, to celebrate the Mile-Hi Accordion Festival and Rocky Mountain Accordion Society Festival.

Offering Adult Clubs, Workshops, Massed Bands, Concerts, Jam Sessions plus competitions for Adults and Kids ages 3-98, the events will be held at the Embassy Suites Hotel, Denver South (I-25/Araphoe Road.)

For further information, please contact Alice Aman at: 719/597-7668

June Dates at a Glance
For important dates in June, please refer to the Future Events page located on this site, by selecting from the menu to the right, or by clicking here.

---

---
Note: In order to provide as much information as possible for the United States National Accordion News stories, many different sources are often researched to gather additional information and pictures to complement what has been submitted. This information is then correlated to provide the news on www.accordionusa.com in the spirit of which it is intended, which is to provide a free news service to the Accordion Community, specifically in the United Sates. If you feel any copyright has been violated please advise www.accordionusa.com and the article will be removed immediately.