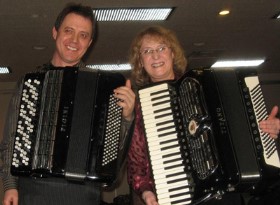 The 2009 Frank Marocco Accordion Event (FMAE), which took place for the third straight year in Mesa, Arizona, was a rousing success. On January 21st, fifty accordionists from 15 states and Canada came together for four days of rehearsals, workshops, and evening activities, culminating in a standing-room-only concert (325 people in the ballroom and another 50 standing outside) on the evening of January 24.

Guest artists, Mary Tokarski and Stas Venglevski, added tremendously to the participants' experience. To the delight of all attendees, Frank Marocco invited Stas Venglevski to be a permanent member of the staff for future events (the staff consists of: event directors and organizers, Joan and Dan Grauman; musical director, conductor, and arranger, Frank Marocco; assistant musical director, Stas Venglevski; director of audio, video, and photography, Bruce Lawrie).

Each day began with 3 hours of rehearsals in the morning, followed by lunch. Wonderful workshops took place each afternoon: "The Art of Practicing" by Mary Tokarski; "100 Years of Musette in Paris" (a multimedia presentation) by Bernard Metais; and a relaxed question/answer/introduction to the bayan session with Stas Venglevski. Master teacher, Ilmar Kuljus, held one-on-one sessions with those who wanted help with problem areas. During our free time, participants enjoyed the beautiful sunny weather, the heated pool, and a little sightseeing. After dinner, evening activities took place nightly.

Concert night was very special. The orchestra played selections by Leroy Anderson, Henry Mancini, Astor Piazzolla, Dmitri Shostakovich, and Stas Venglevski. All but the Shostakovich and Venglevski selections were arranged for accordion orchestra by Frank Marocco. In addition to the orchestral pieces, there were solos and duets performed by guest artists Mary and Stas, as well as Gail Campanella, Anthony "Tip" Ciotti, Lenny Feldmann, Steve Gordon (accompanying his wife, soprano Diana Gordon), Joan Grauman, Frank Petrilli, Amy Jo Sawyer, and John Simkus. Frank Marocco wowed the audience by playing two numbers, accompanied by outstanding young local musicians, Wes Anderson on drums and Sean Brogan on bass. After the concert, guests and musicians enjoyed music provided by FMAE participants, including: Joe Baccellieri, Elwin Ellis, Bob Moloznik, Norman Panto, and Bob Vitale. People were dancing in the aisles and we all hated to see the evening end. All in all, this was a magical experience for everyone.

Next year's event has been scheduled to take place on January 14-18, 2010. A waiting list has been started. To get on this list or for further information, please email Dan and Joan Grauman at f-m-a-e@comcast.net.

Please visit www.azfamily.com/video/?z=y&nvid=323874 to see Frank Marocco's appearance on Good Morning Arizona. To buy online Stas Venglevski Music & CD's. To buy online Mary Tokarski CD's.