Kevin Friedrich (Accordion)
- On Christmas Eve Overture, arr. Henri Klickmann
- The Merry Christmas Polka by William Thomas 'Willie' Phelps & Jim Reeves
with Linda Emmett Litt (Percussion)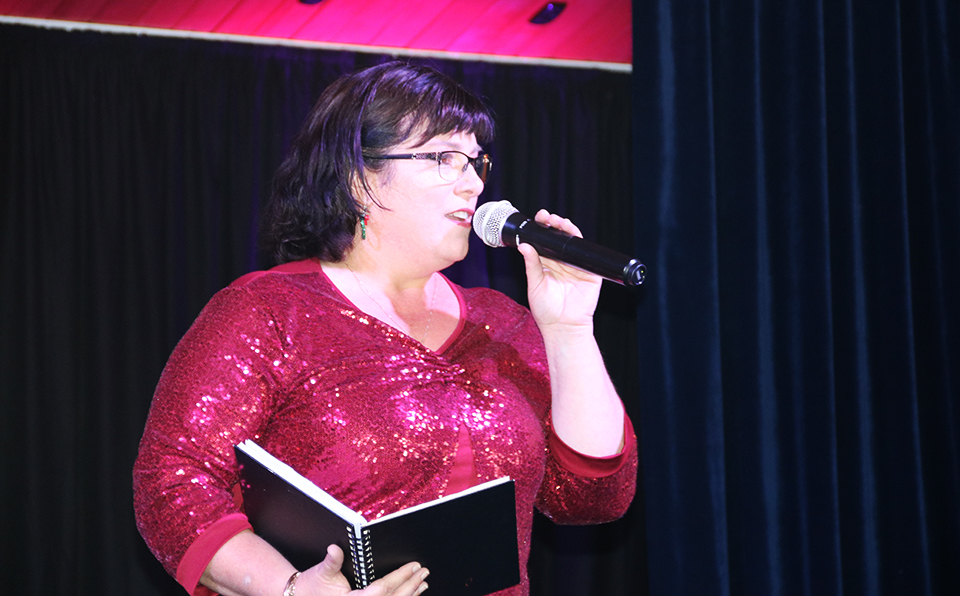 Wendy Dunn (Vocalist)
- I'll Be Home for Christmas by Walter Kent & Kim Gannon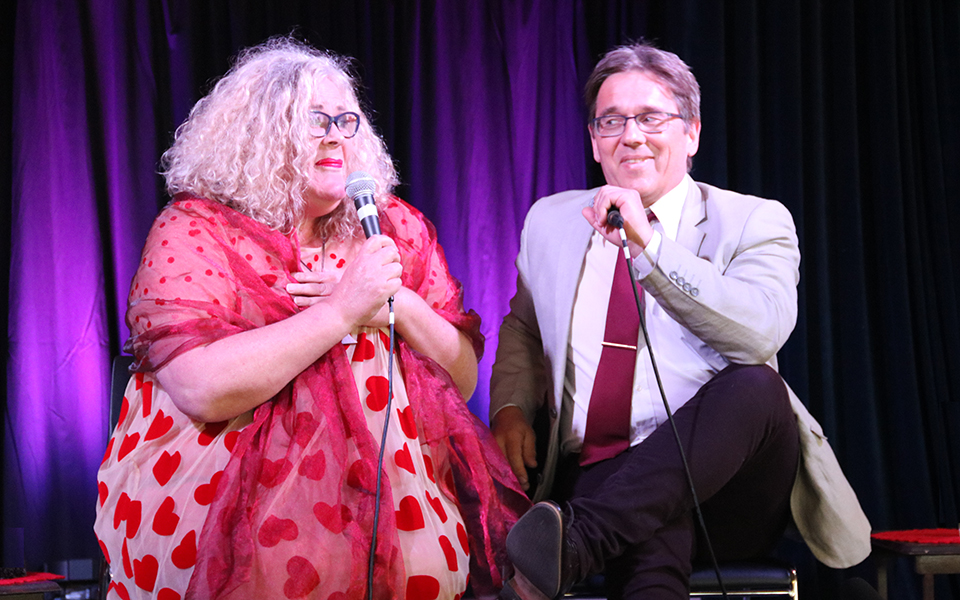 Brenda Polwart and Adrian Humm (Vocalists)
- Baby Its Cold Outside by Frank Loesser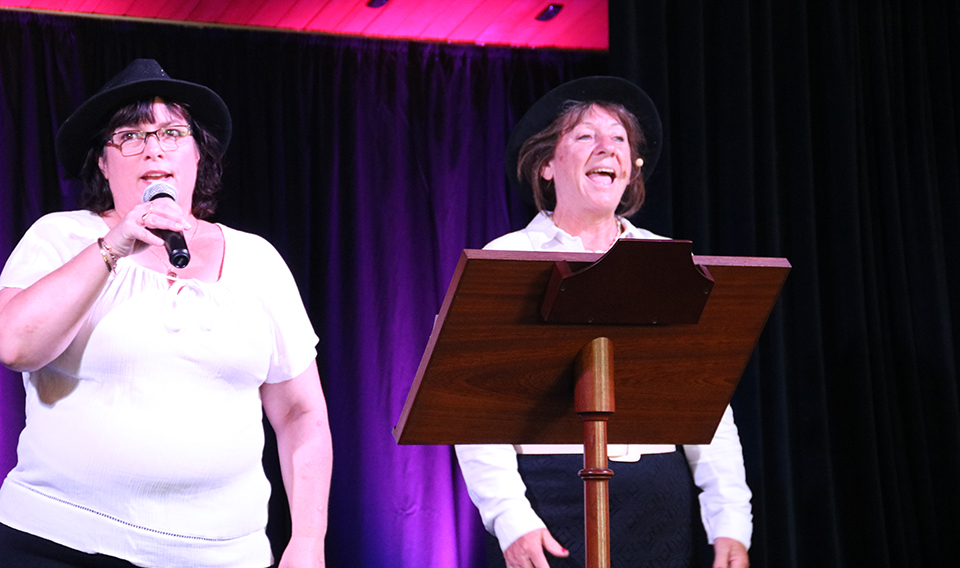 Wendy Dunn and Roslyn Gilmour (Vocalists)
- Will the Circle be Unbroken by Ada R. Habershon & Charles H. Gabrie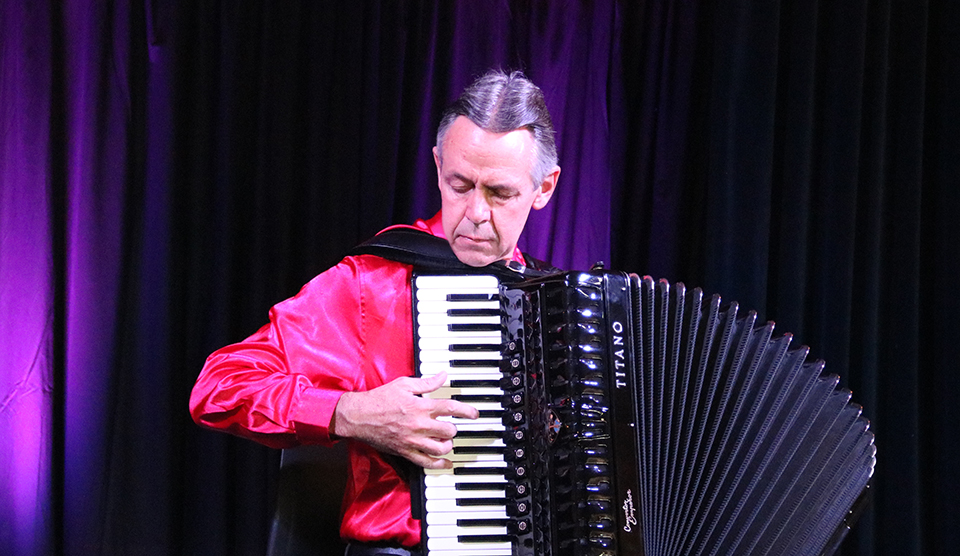 Kevin Friedrich (Accordion)
- Silver Bells by Jay Livingston & Ray Evans, arr. Gary Dahl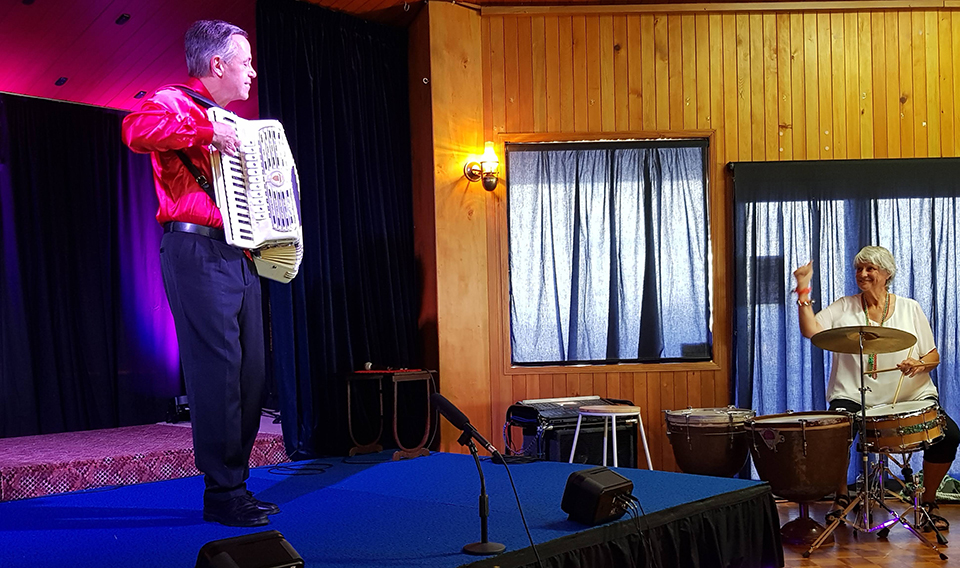 Kevin Friedrich (Accordion) and Linda Emmett Litt (Percussion)
- Let it Snow, Let it Snow, Let It Snow by Sammy Cahn & Jule Styne
  It's Beginning to Look Like Christmas by Meredith Willson
Kevin Friedrich (Accordion)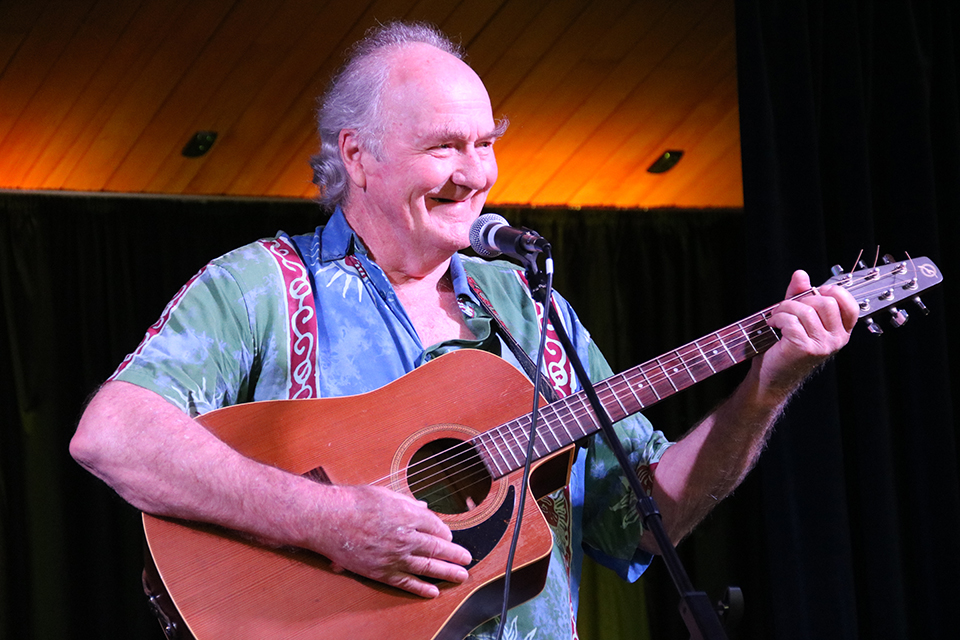 Mike Durney (Vocals and Guitar)
- Mary's Boy Child by Jester Hairston
- Try a Little Kindness by Curt Sapaugh & Bobby Austin
Nolene Osbaldiston (Piano)
- Polly by John Stepan Zamecnik
- Frühlingsrauschen, Op. 32, No. 3 ('Rustle of Spring') by Christian Sinding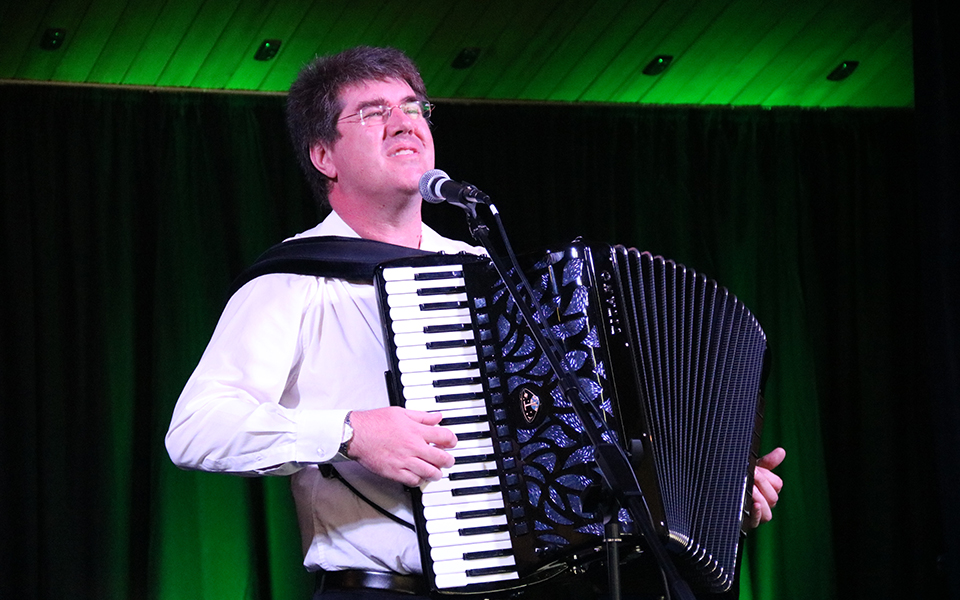 Lionel Reekie (Vocals and Accordion)
- The Christmas Song by Mel Tormé & Bob Wells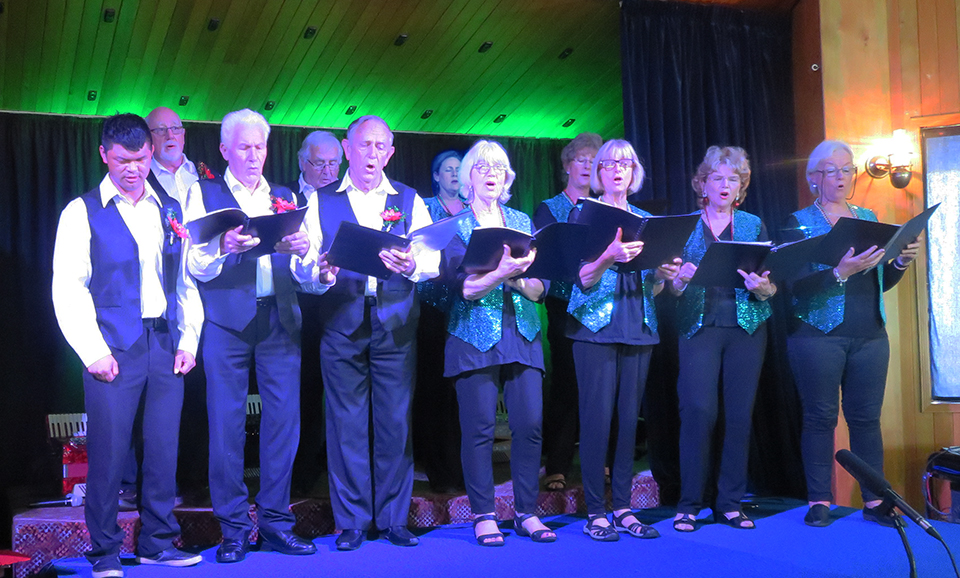 Rivertown Singers and Take 6
Rivertown Singers: Allan Mortensen, John Bennett, Ian Stoddart, Ming Ming Edgar, Geoffrey Prentice,
Take 6: Hilary Herd, Pat Mortensen, Anneke van der Putte, Lynley Clements, Mariann Warne and Rachel Kidd
- A Bit of Holiday Cheer (Christmas Medley) arr. Teena Chinn
- The Manger King by Deborah Zufall   

Maurice Jones (Accordion)
- The Holy City by Stephen Adams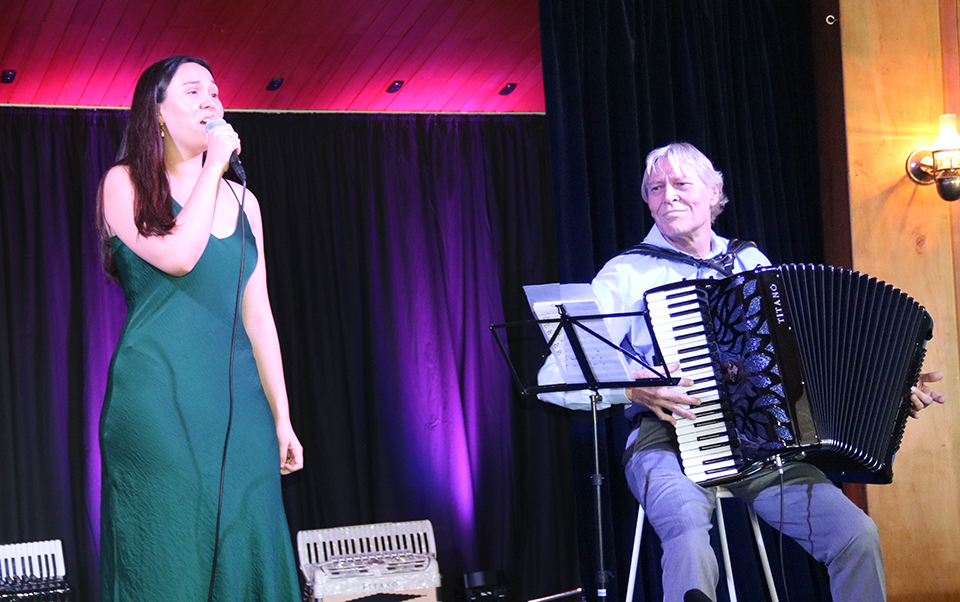 Father and Daughter team - Alanah Jones (Vocalist) and Maurice Jones (Accordion)
- O Holy Night by Adolphe Adam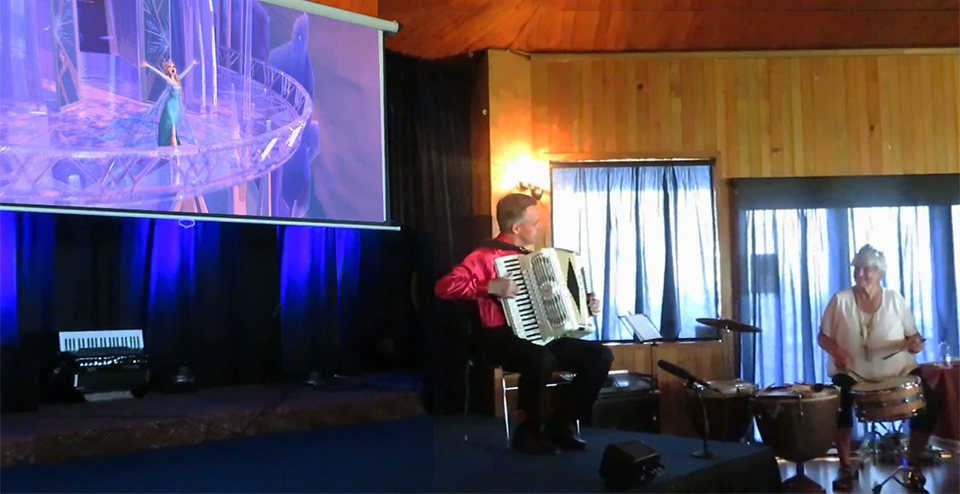 Kevin Friedrich (Accordion) and Linda Emmett Litt (Percussion/Timpani)
- Let it Go from Frozen by Kristen Anderson-Lopez & Robert Lopez
(performed to footage from the song)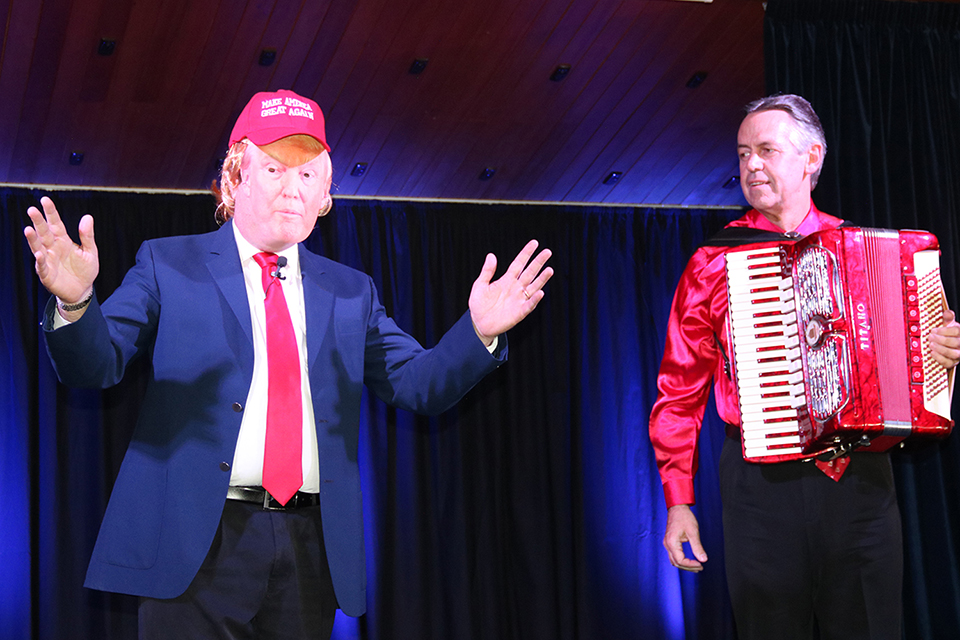 Kevin Friedrich (Accordion) and Donald J. Trump (aka Lionel Reekie)
In a surprise visit to Dargaville, President Trump paid a visit to sing a rather fitting song - It's Hard to Be Humble by Mac Davis.
The words were adapted for the comedy routine, delighting the audience with sponaneous laughter and applause.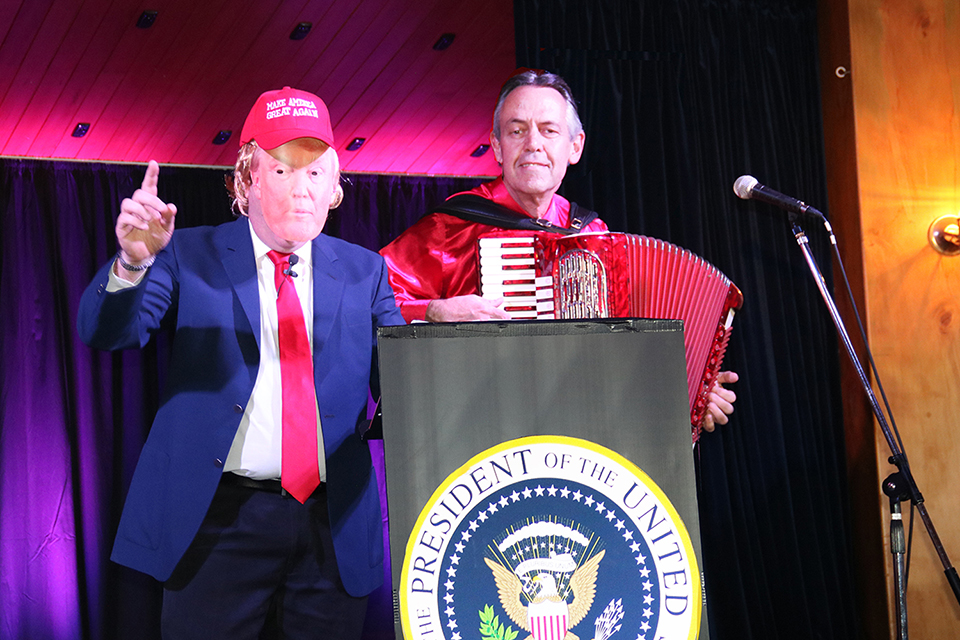 Kevin Friedrich and Donald Trump take a selfie with the audience as a souvenir of his visit to Dargaville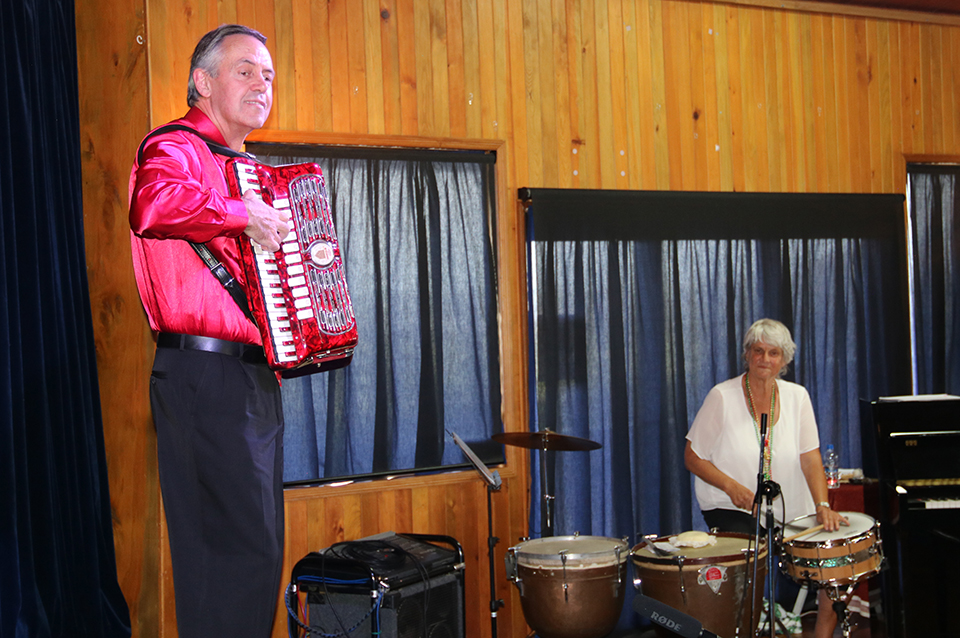 Kevin Friedrich (accordion) and LInda Emmett Litt (percussion/Timpani)
- Jingle Bell Rock by Joseph Carleton Beal & James Ross Boothe and Rockin' around the Christmas Tree by Johnny Marks
Unprediktable (Lynn Walters, Sue Marmont and Mike England)
- New Zealand Christmas Tree by Sam Freedman
- Mele Kalikimaka by Robert Alex Anderson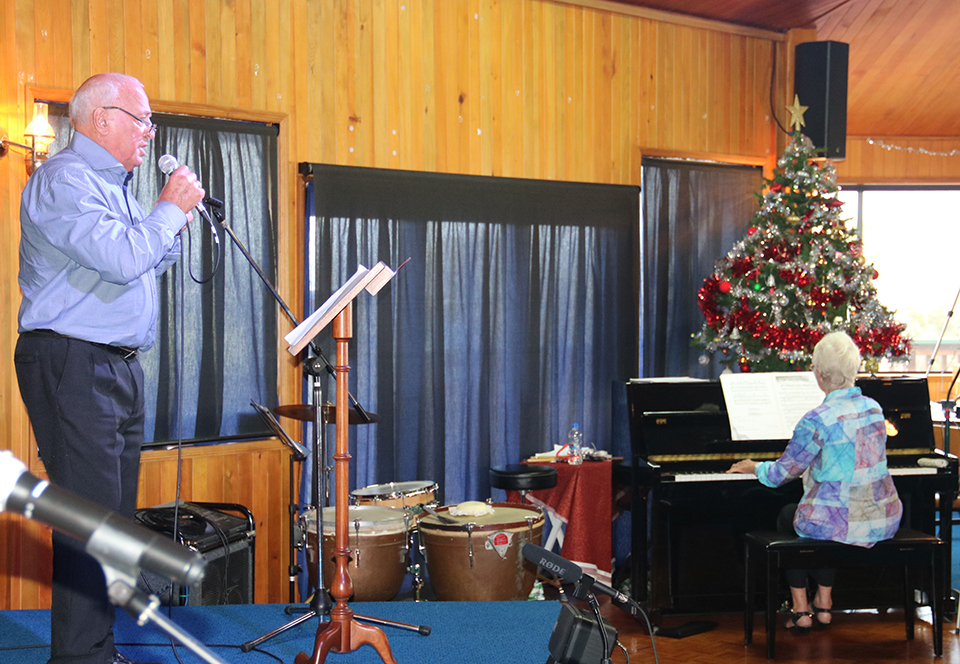 Jone Yelcich (Vocalist) and Nolene Osbaldiston (Piano)
- When A Child is Born by Fred Jay & Ciro Dammicco
- Have Yourself a Merry Little Xmas by Hugh Martin & Ralph Blane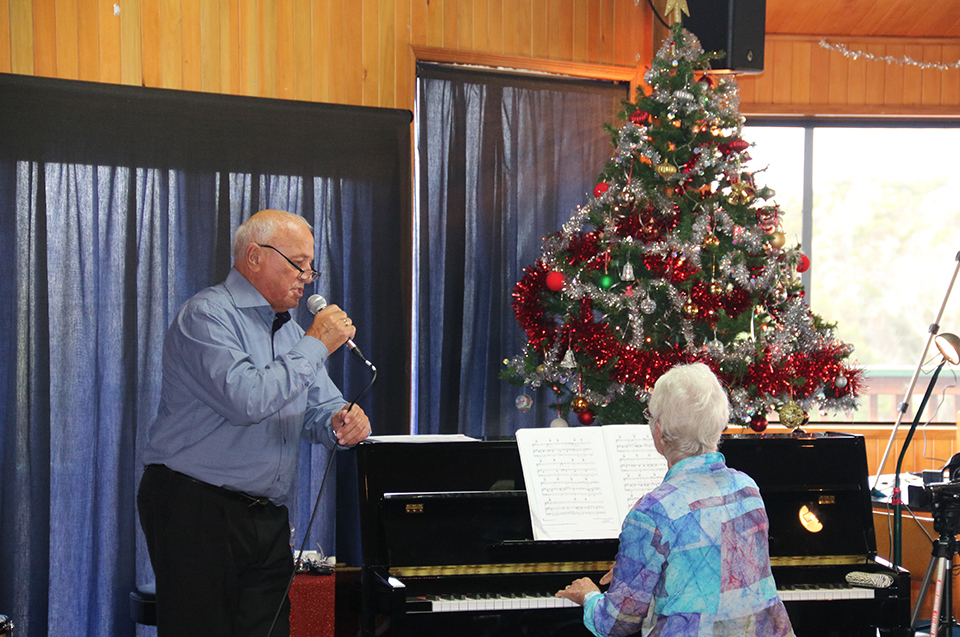 Jone Yelcich (Vocalist) and Nolene Osbaldiston (Piano)
To set up the second Pantomime routine, Kevin introduced his selection from the Nutcracker Suite as follows: A highlight of the Nutcracker Suite by Tchaikovsky, The "Dance of the Sugar Plum Fairy" is a piece showcasing the lead or Prima Ballerina.  It is probably every young ballerina's dream to finally land this role.  Dancing this role symbolizes the heart of ballet and is recognized for its pure artistry.

A Choreographer has described the Sugar Plum Fairy's music as sounding like "droplets of water.  I would now to play this piece of music from the Nutcracker Suite.  After having seen the New York City Ballet perform this many times, while playing it, I envision the Prima ballerina bringing this piece to life, showcasing the epitome of poise, artistry, graceful technique and beauty.

Much to the audience's amusement, The Sugar Plum Fairy lacked the poise, artistry, graceful technique and beauty!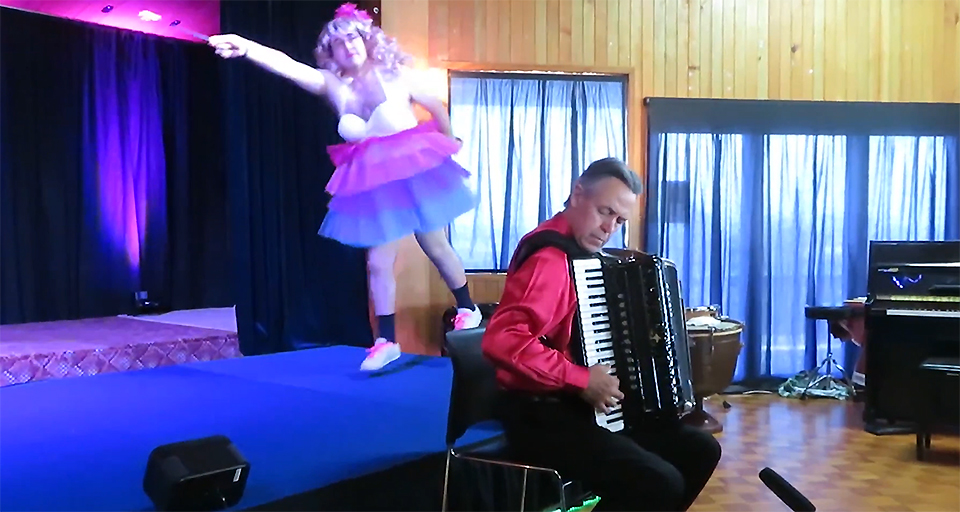 Kevin Friedrich (Accordion)
- Dance of the Sugar Plum Fairy (Nutcracker Suite) by Pyotr Tchaikovsky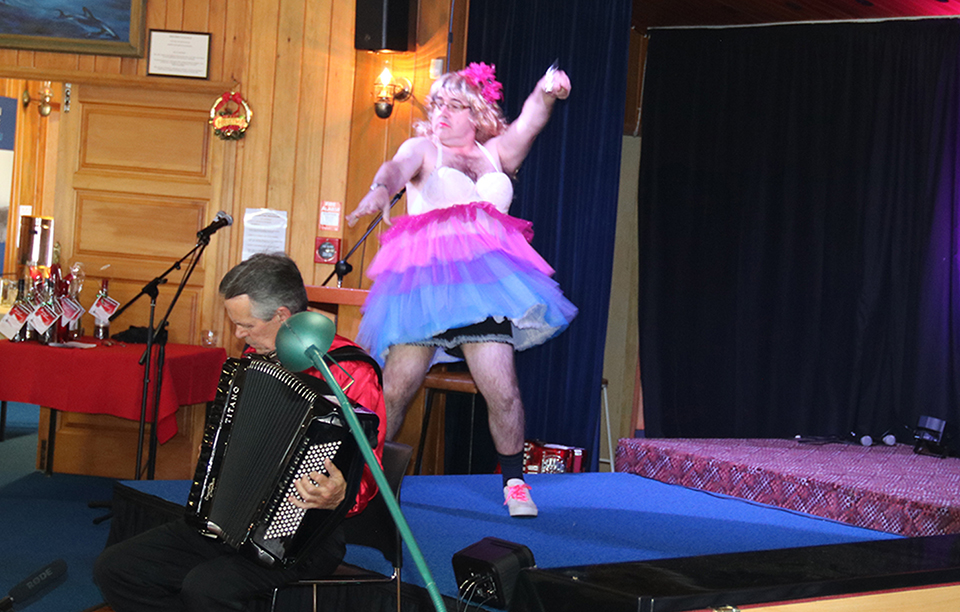 Kevin Friedrich (Accordion)
- Dance of the Sugar Plum Fairy (Nutcracker Suite) by Pyotr Tchaikovsky
Kevin Friedrich (Accordion)
- I Saw Mommy Kissing Santa Claus by Tommie Connor and We Need a Little Xmas by Jerry Herman

above left: The traditional array of thank you gifts for the performing artists
above right: Greetings from the President of the Dargaville Museum, Ross Newlove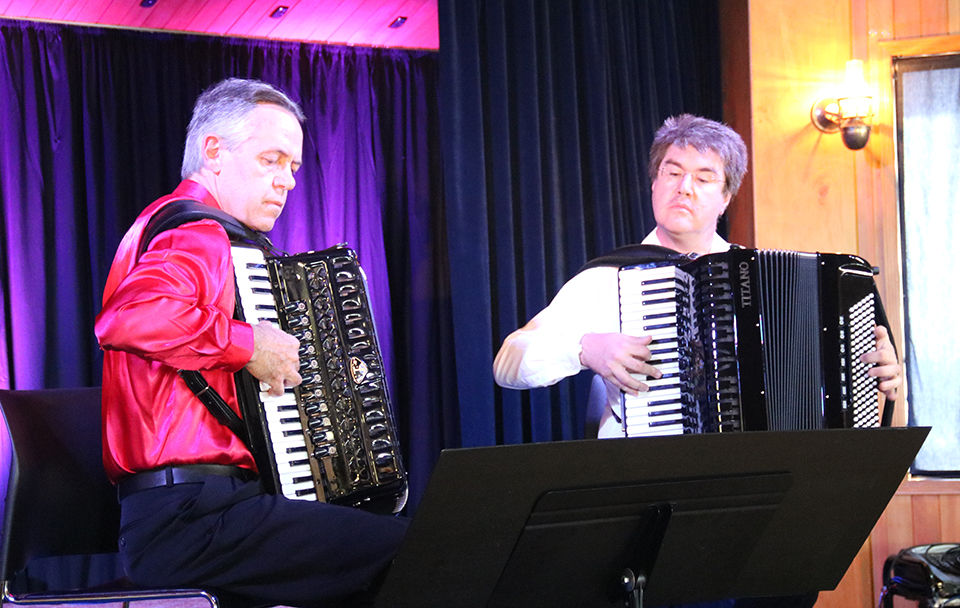 Kevin Friedrich and Lionel Reekie (Accordions)
- Waltz of the Flowers (Nutcracker Suite) by Pyotr Tchaikovsky, arr. Galla-Rini

Kevin Friedrich, Take 6, Rivertown Singers and Guests
- Rudolph the Red Nose Reindeer by John David Marks
- Frosty the Snowman by W. "Jack" Rollins & Steve Nelson
- Here Comes Santa Claus by Oakley Haldeman
- White Christmas by Irving Berlin
   with Roslyn Gilmour (Rudolph), Sue Marmont (Frosty), Lionel Reekie (Santa), Jone Yelcich
and Linda Emmett Litt (Timpani/Percussion)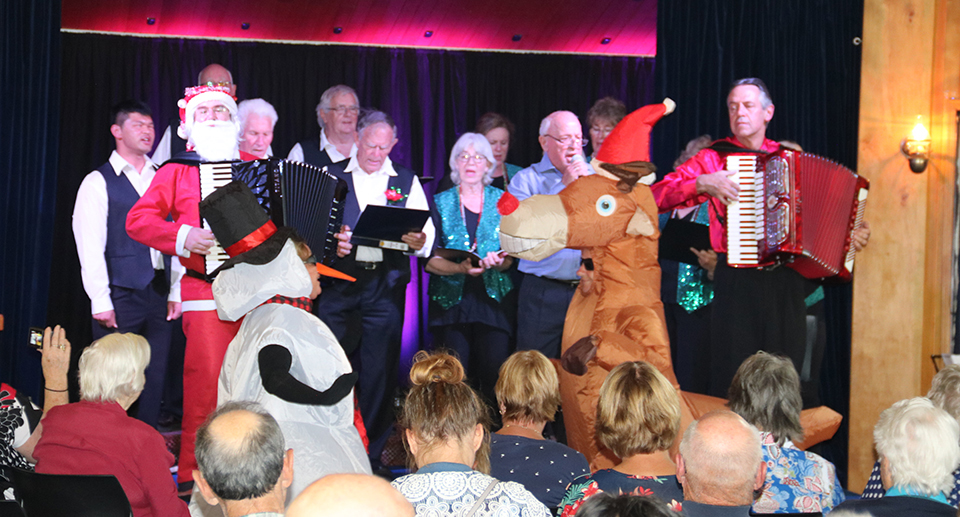 Rudolph and Frosty
Christmas Carol Sing-Along
The capacity audience at the Sounds of the Season Concert with Kevin Friedrich and Friends