REPORT - NO PLACE LIKE HOME - July 29, 30 and 31 at Tenri Cultural Institute - New York

Critics Comments:

Music Maestro Magazine:

"The 2016 Seminars moderated and curated by Dr. William Schimmel were unsurpassably
amazing: High level, high octane performances, stimulating talks and great vibes, perhaps the foundation of an Accordion artistic community, I could live off of it for a year".



Video from the American Accordionists' Association Master Class and Concert Series released by Dr. William Schimmel.


2. Seminar Participants

The New York Times:
"William Schimmel who holds a Doctorate in Composition from The Juilliard School is a tireless
champion of the Accordion who runs a yearly Seminar in New York that draws fellow players form around the world and intoduces new works. He honors the populist heritage of his instrument by giving master classes on subjects like working as a strolling accordionist at restaurants. Yet for Mr. Schimmel, as he explained in a 2004 interview in The New York Times, there's no music that can't be played on the accordion - from Bizet to Blondie"
Anthony Tommasini


3 The Yorkvillians

Time out New York:

"Under the ever watchful eye of mad-genius accordionist Dr. William Schimmel, squeeze boxers from around the globe gather for the AAA's annual series of master classes and freewheeling concerts, which includes unorthodox spins on classic standards, new pieces and all manner of unpredictable fusions"

The participants included: Micki Goodman, who presented her own new video work, Classical Bluegrass with a score by Dr. Schimmel; Dr. Hugo Goldenzweig, Pianist, performing in Transedencia - based on the music of Albeniz with additional music for Bass Accordion by Dr. Schimmel. Erica Marie Mancini presented her Distancia, for Accordion and Laptop. Paul Stein gave us a Melodica Medley from Michel Legrand to Perfidia. Mary Spencer Knapp gave us two new songs complete with choreography. Lee Mc Clure told us the history of Eclecticism as well as a film noir tribute for Flute and Accordion.


7. Dr. Schimmel

Ken Laufer's Symphony in the Old Style mirrored the Blues. Will Holsshouser's new work mixed classic modernism with jazz with a new approach to bellows shaking. Godfrey Nelson and Lorraine Nelson Wolf performed a work entitled Heart for Accordion, Guitar, Piano and Electronics. Dr. Schimmel did a Reality on West Side Story (West Side Reality)., David First played Harmonica in Home Sweet Home with Dr. S.

David Stoler presented Cinematic Suite for Accordion and Guitar (Sal Azzarelli). Carl Riehl premiered Messian in Black for Accordion and Electronics.
The Master Classes included acclaimed Klezmer Violinist, Alicia Svigals, demonstrating various Klezmer varieties. City Opera Diva, Lauren Flanigan focused in on newly discovered Kurt Weill songs not yet performed publicly - with special permission from the Kurt Weill Society.

Paul Stein gave a workshop on performing in small spaces, including house concerts. Dr. Robert Young Mc Mahan told us about his own personal Accordion Odyssey starting from childhood to Academic life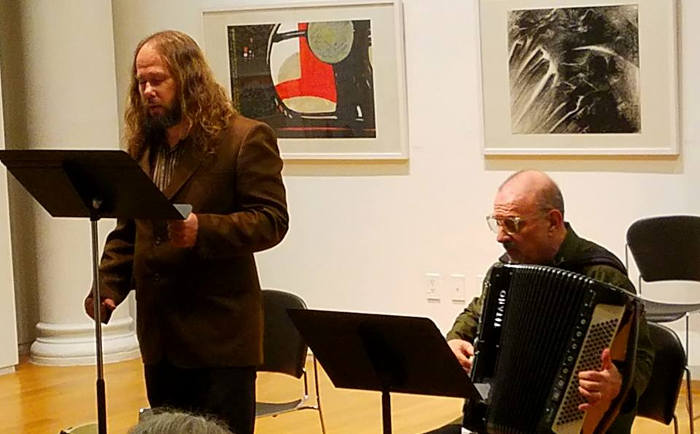 6. Corn Mo, Dr. Schimmel

Jeanne Velonis gave us a 16th Century Scarf Dance and a work by John Tavener. Dr. Denise
Koncelik was awarded the Order of the Shield Diploma for her outstanding work as an Accordionist (Dance of the Comedians/Bachtopus, flutist (Burlesca (WS)/Sontag in Sarajevo (Dave Soldier) along with Dr. Mc Mahan and Devon Tipp and arranger (Carousel Breakdown WS - Main Squeeze Orchestra.
The Order of the Shield is a private studies program and the graduate and post graduate level with a lineup of graduates and honorary members including Charles Magnate, Carmen
Carozza, Joseph Soprani, Dr. Robert Young Mc Mahan, Micki Goodman, Will Holshouser, Paul Stein and many more. Special thanks was given to Micki Goodman (Dr. Schimmel's wife) for contributions spanning 22 years. Also special thanks was given to Paul Stein for his constant support. Will Holshouser received a special merit award for his distinguished service of 20 years.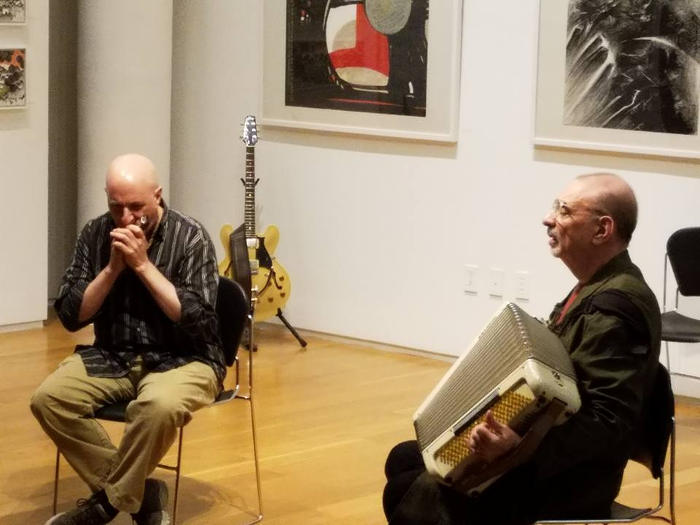 5. David First, Dr. Schimmel

More highlights included performances by The Main Squeeze Orchestra performing Dr. Schimmel's Carousel Breakdown - written for them - with movement and costumes and
Bachtopus, and Accordion Quartet specializing in Bachian Pieces, Here they performed
Dr. Schimmel"s (Anonymous Bach) Concerto in A Minor from the Accordion player's perspective, preceded by Cantus in honor of Benjamin Britten by Avro Part (arr. Robert Duncan). Will Comer played at a Master Class and received positive comments.
Dr. Schimmel gave a lecture that took us back to 1954 when there were four hits on Hit
Parade used Accordion extensively: That's Amore, Chimney Smoke, Crazy Mixed Up Song and
Whale of a tale, He explained the fact that various Accordion Associations, the Ethnic Community and young people approaching teen years had their own agendas and none of the groups connected - leading to the Accordion's demise. He gave suggestions on how to connect today using Social Network as new groups form. He called this factor Permanent Transition - demonstrating with a piece - Tango of the Blue Danube which had one foot in Vienna and one in Argentina. He also played a new rendition of Pietro Deiro's Concerto in D, one of his last compositions, paired down to five minutes with a steady beat throughout - danceable in a club -
He called it the "House Version".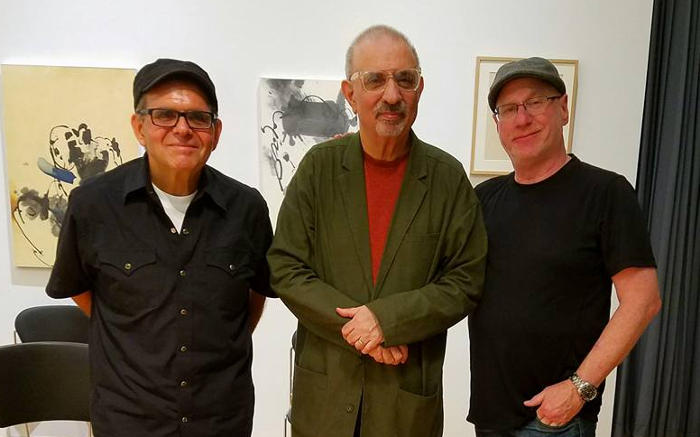 4 Sal Azzarelli, Dr. Schimmel, David Stoler.

Doug Makofka supplied "Frippertonics" to Cantata for Regular People as well as Persichetti and his own Willys Song. Bob Goldberg explored the Tenri space with Over the Rainbow. Brian Dewan closed the weekend with Horse with no name, Do not mortgage the farm and the Crayon song. John Foti gave us a Asbury Park New Jersey Americana. Melissa Elledge gave us Accordio - Gangsta rap and a new original. Mayumi Miyaoka gave us a tribute to Charles Magante and a Japanese folk Melody. Peter Flint premiered a new work for Bachtopus. Uri Sharlin and Sanda Weigel presented us with selection from Hans Eisler's Hollywood Songbook. Indie Rocker Corn Mo performed The Lost Chord by Sir Arthur Sullivan, Robert Schumann and one of his own songs. Dr. Robert Young Mc Mahan premiered his Riffs for Accordion and Bassoon (Devon Tipp), joined Cellist Cecila Barczyk in Introduction and Allegro by Matyas Seiber. Marni Rice performed a selection from her Cabaret of the Absurd.
We look forward to #23 next year - The Red Lantern Accordionist