Performing with the Mantovani Orchestra ("The World's Most Elegant Orchestra") is a thrill in itself. The level of musicianship is outstanding . . . the people are among the nicest I've ever met . . . and the selection of music is exciting and fun to perform.

Aside from all that, touring China for the 2nd time with this magnificent orchestra was a joy that simply cannot be explained!

We started our experience with 2 days of rehearsal in Orlando, Florida, where I got to re-connect with many of the friends I made on the first tour (February, 2007) and was introduced to many new faces . . . including Barry Knight, our conductor (Barry was the conductor of the BBC Orchestra in London for many years and now lives in Bangkok, Thailand).

Rehearsals were 3 hour sessions in both morning and afternoon on both days, followed by a 3:00 a.m. trek to the airport for our plane to San Francisco.

After a 3 hour lay-over in San Francisco, we boarded a United aircraft to Shanghai . . . a 13 hour trip. But, that wasn't the end of it . . . when we arrived in Shanghai, we waited again for 3-4 hours, and boarded another plane to GuangZhou.

Since the plane was late taking off, we arrived in GuangZhou very early in the morning on Monday, April 27th . . . our first concert was scheduled for Monday evening at 8:00 p.m. at the Xinghai Concert Hall in the Arts and Cultural Center of the Tianhe District. There was not much time for sleep with a 3:30 bus call to the Concert Hall for a short rehearsal and sound check. The concert was greeted warmly by the appreciative audience of around 1500 local Chinese.

The Orchestra continued on our hectic schedule performing concerts at the GuangZhou Arts Center, 2 concerts at Beijing's XinShiJi Theater, The Wuhan Theatre, 2 concerts at the Shanghai Oriental Arts Center, and finishing at the HangZhou Grand Theater.

The Mantovani "sound" is heavy on strings, with prominent brass and woodwinds. The percussion section was equally outstanding. The music included many opportunities for accordion "spotlights" . . . Cielito Lindo, Smoke Gets In Your Eyes, You Only Live Twice, the Lonely Ballerina, Besame Mucho – just to name a few. I was the "featured" soloist on Hi Lili, Hi Lo, La Vie En Rose, Under Paris Skies and Windmills of Your Mind.

Not a performance went by without the encores . . . again, featuring solos for me in the Mexican Hat Dance and a Mantovani Original, Puppet On A String.


The audiences were large, enthusiastic and came from all walks of Chinese life (including the Mayor of Shanghai). It was hard to fathom that many of the attendees had paid a week's salary (or more) to purchase the tickets! We even had a fan who came all the way from South Carolina (U.S.) to attend the Wuhan concert.

He followed me onto the bus for an autograph, and wrote to me in a follow-up email: "Your accordion music was heavenly, it was the highlight of "La Vie En Rose". This song won't be the same forever since I went to the concert in Wuhan Theatre."

China holds a treasure of sights for visitors. The skyscrapers are everywhere in the large, newer cities . . . built right next door to rural, underprivileged areas, creating quite a diverse picture for the sightseer. Apartment houses abound everywhere, and the sight of clothes hanging off the balconies, outside windows, and pretty much everywhere is overwhelming.

The architecture in China is a marvel . . . buildings of all sizes and shapes. From an aerial view, The Shanghai Oriental Art Center is just like five blossoming petals, which constitute respectively the entrance hall, Oriental Performance Hall, Oriental Concert Hall, Exhibition Hall and Oriental Opera Hall, forming a beautiful butterfly orchid in full bloom.

Many people on the streets were dressed in finely tailored business attire, all busily on their way to work . . . walking, riding the trolleys . . . or their bicycles. Traffic never stood still. Cars went around the bicycles and pedestrians! Outside the business communities others seemed as though they were wearing all they had, and working hard just to get through the day, and smiling as if they had no worries in the world.

A walk through the market district in Wuhan produced rather strange sights for an American resident. Live chickens and ducks crowded in cages, frogs in covered buckets, fish and eel all on the street ready to be selected for today's lunch and dinner. A wide variety of herbs and spices were readily available everywhere . . . and we even found a WalMart . . . called TrustMart in China!

Vendors always expected to "bargain" for the items they were selling . . . never a price marked on anything . . . even a visit to the Pearl Center in Shanghai was an experience not to be missed.

I feel honored and privileged to have been a part of two Mantovani Orchestra tours to China, and look forward to more wonderful experiences in the future!

Mary Tokarski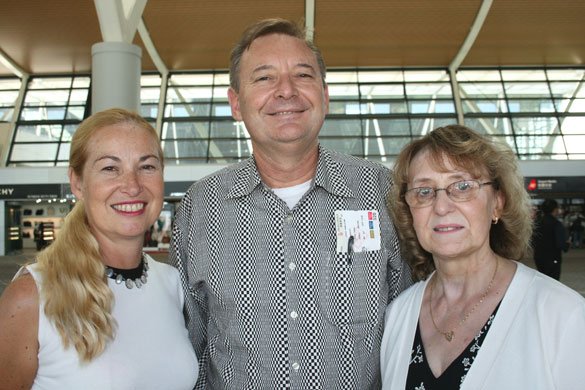 Editors Note by Rita Davidson.

Friends of Mary from New Zealand, Harley Jones (CIA Executive & owner of accordions.com) and his sister Heather Masefield were in Shanghai.

Heather was adjudicating at the Shanghai Spring National Accordion Competition & Festival and Harley was reporting the event.

A lovely co-incidence happened when Mary saw Heather at the Shanghai Airport for a surprise meeting.

Mary, Heather and Harley are CIA delegates for their respective countries and will next meet again in August at the 2009 Coupe Mondiale, which is being held in Takapuna, Auckland, New Zealand, 25-29 August.